Item# G0816 Model# G0816
Grizzly G0816 - Heavy-Duty Bead Roller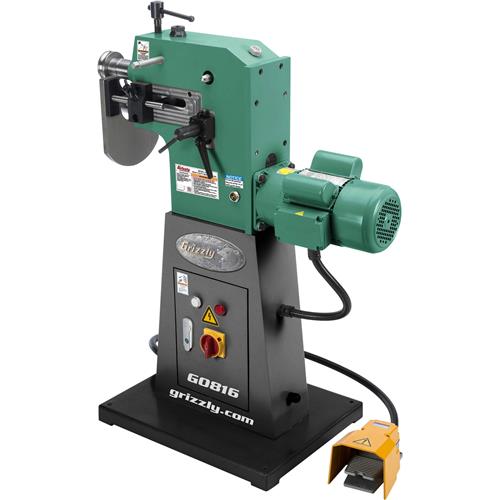 Roll through heavy gauge sheet metal projects all day long with our G0816 Heavy-Duty Bead Roller. With a maximum capacity of 12-gauge aluminum or 14-gauge mild steel, this roller helps ensure you get the right bead the first time. Features top-mounted, one-hand height controls and an 11-1/2" throat capacity with adjustable back-plate to help you produce straight lines on a wide range of projects. Securing each roller mandrel is a heavy-duty 30mm shaft for any of our great tooling options. This bead roller is also remotely operated with a foot pedal, allowing you to keep rolling while supporting large workpieces, and the steel stand with oversized footprint provides an ultra-solid foundation to ensure precise, reliable results, even when rolling large, heavy pieces.
Specifications:
Motor: 1 HP, 220V, single phase, 5A
Power transfer: Gear drive
Maximum thickness (mild steel): 14 Ga
Maximum thickness (aluminum): 12 Ga
Throat depth: 11-1/2"
Shaft diameter: 30mm
Overall size: 22-1/2" W x 44" H x 34" D
Footprint: 18" x 22-1/2"
Approximate shipping weight: 455 lbs.
Features:
Hands-free operation with foot pedal control
12-Gauge aluminum capacity
14-Gauge mild steel capacity
Adjustable throat depth
Adjustable backplate
Heavy-duty steel body and stand
11-1/2" throat capacity for workpieces up to 23" wide
One-hand mandrel height adjustment
Ball oiler lubrication
Locking electrical cabinet
Includes 1/2" bead mandrel set and wrench
View More Details
Backordered - More on the way