Item# T32335 Model# MP-1002
Grizzly PRO T32335 - 2-Gallon Oil-Free Quiet Series Air Compressor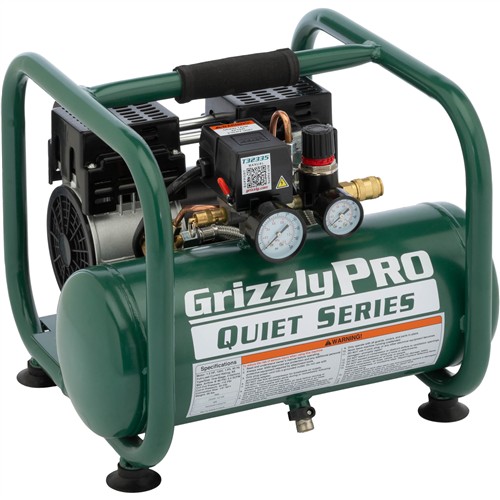 T32335 2-Gallon Oil-Free Quiet Series Air Compressor
The perfect lightweight and portable air compressor.
The Grizzly PRO T32335 2-Gallon Oil-Free Quiet Series Air Compressor is designed for portability between construction sites. When it comes to keeping your air tools aired up on location, or even your car tires, you can't beat the ability to pick up your compressor and move it where you need.
This 2-gallon model would be great for use in a workshop or doing interior trim work—running pin nailers, trim nailers, or an airbrush setup, or blowing dust off of projects.
With an operational sound rating of only 60 dB, the T32335 is one of the compressors in the "Quiet Series" of power tools. 60 dB measures just louder than a household refrigerator and is less than normal conversation. While this compressor is getting the job done, you will hardly even notice it is running.
Compare this with a normal compressor sound rating of 90 dB, which is about equal to a lawnmower. It's hard to describe just how striking the difference is—you really have to hear it to believe it.
The 1 HP motor draws only 7 amps. With a maximum pressure of 125 PSI, this compressor delivers 2.4 CFM at 90 PSI and 3.2 CFM at 40 PSI.
The T32335 has a regulator and pressure gauge for controlling and observing your line pressure, making it require very little setup.
The oil-free double piston pump design provides four times the life of most oil-free compressors, making for cleaner air emissions and lower maintenance costs as well. The frame design protects motor and pump from construction site damage and is easier to carry.
Like all Grizzly air compressors, the T32335 comes with a 1-year warranty which covers parts and assures the unit is free from factory defects.
The T32335 manual was written by our U.S. based Technical Documentation Department and is packed with useful information on how to assemble and maintain your portable air compressor pump.
To order parts, or other services and inquiries, contact Mega by phone at 832-415-6995 or email at CS@megacompressor.com
SPECIFICATIONS:
Motor: 1 HP, 120V, single-phase, 7A
Airflow capacity: 2.4 CFM at 90 PSI and 3.2 CFM at 40 PSI
Maximum air pressure: 135 PSI
Tank size: 2-Gallon
Sound rating: 60 dB
Overall size: 16" W x 15-1/2" D x 14" H
Approximate shipping weight: 48 lbs.
FEATURES:
Frame design protects the motor and makes it easy to carry
Oil-free double piston pump design
Quiet operating
Soft start switch
View More Details