Item# T31999 Model# T31999
Grizzly PRO T31999 - Biscuit Joiner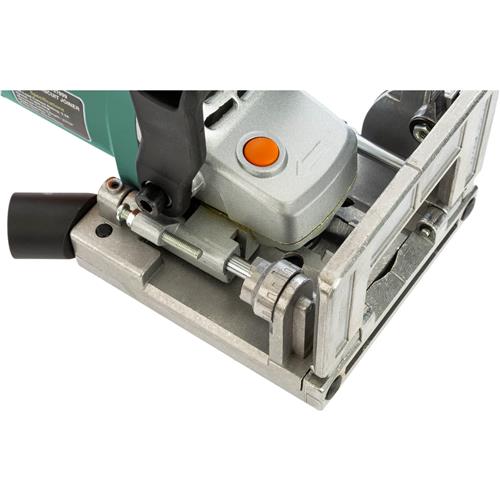 Grizzly PRO T31999 Biscuit Joiner
A professional quality joiner at a fraction of the cost of our competitors.
Biscuit joining is one of the quickest, most effective ways to join two pieces of wood. Whether edge-joining panels for a custom table top or joining two box sides at 90°, you can make a hidden, reinforced joint that's stronger than the wood itself.
The T31999 Biscuit Joiner makes half-oval shaped grooves in the mating edges of two boards, then "biscuits" are inserted into the grooves prior to glue-up to reinforce the joint.
The Grizzly PRO Biscuit Joiner has a maximum cutting height of 1-9/16" and a maximum cutting depth of 23/32". Cutting height depends on your workpiece thickness. Set the cutting height to half the thickness of your workpiece for the strongest joint.
The T31999 Biscuit Joiner is compatible with 0, 10, 20, S, D and MAX size biscuits (biscuits sold separately).
The T31999 is equipped with a 1" dust port that can attach to a dust collection system (not included) or the included dust bag.
Like all Grizzly tools, the T31999 comes with a 1-year warranty which covers parts and assures the unit is free from factory defects. (Consumables are not covered by the warranty.)
The T31999 manual was written by our U.S. based Technical Documentation Department and is packed with useful information.
The Grizzly Customer Service and Technical Support Teams are U.S. based. Parts and accessories for the joiner may be available online and shipped from the Grizzly parts warehouse in Springfield, MO.
SPECIFICATIONS:
Motor: 1 HP, 120V, 5.9A
Speed: 11,600 RPM
Maximum cutting depth: 23/32"
Maximum cutting height: 3/4"
Fence tilt angle: 0–90°
Blade diameter: 4"
Blade thickness: 5/32"
Arbor size: 20mm/22mm
Biscuit sizes: 0, 10, 20, S, D, MAX
Dust port size: 1"
Overall dimensions: 5-1/2" W x 18" D x 6" H
Approximate shipping weight: 6 lbs.
FEATURES:
Six-position turret stop for biscuit depth (0, 10, 20, S, D, and MAX)
Fixed stops at 0°, 45°, and 90°
Hinged base for easy blade removal
Dust extraction through blade housing with 1" dust port
INCLUDES:
4" 6T blade
Dust collection bag with adapter
6mm hex wrench
Flange wrench
Two replacement motor brushes
View More Details