Item# G0668 Model# G0668
Grizzly G0668 - 20" 2 HP Vertical Metal-Cutting Bandsaw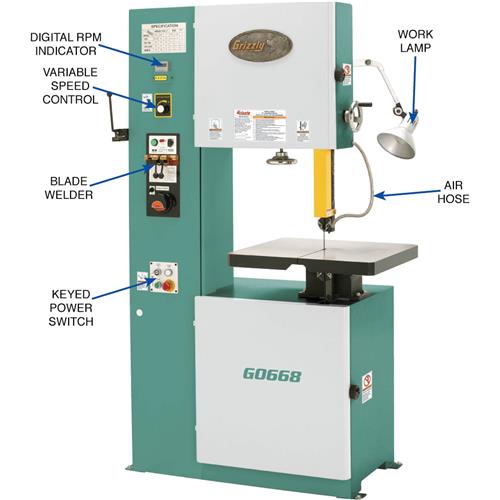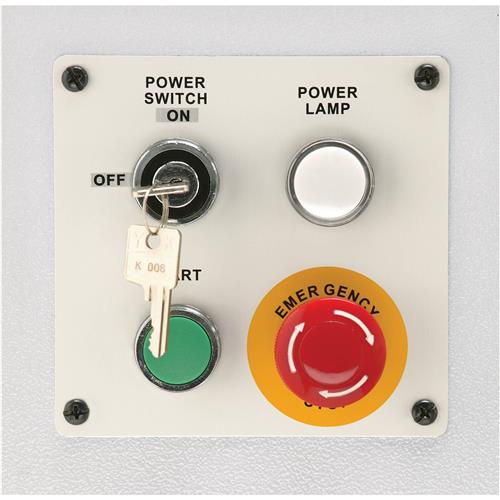 Enjoy the benefits of a large capacity vertical bandsaw with the ability to make internal cuts in one self-contained machine. A built-in blade shear, welder, and grinder allows you to cut the blade, feed it through the work piece and weld it back together again. The blade is also cooled during the cut by an on board air compressor and air nozzle so there's no messy liquid coolant system. The variable blade speed control lets you dial in the optimum speed for any type of metal-cutting job and the balanced cast-iron wheels ensure extremely smooth operation.
Specifications:
Motor 2 HP, 220V, 3-phase, 1725 RPM, 6.6 Amps
Welder 220V, 4.2 KVA
Grinder 220V, 1/8 HP
Maximum cutting height 12-5/8"
Throat capacity 19-3/4"
Blade length 154-1/2" - 159-3/4"
Blade size range 1/8" - 3/4"
Included blade size: 157" x 3/8" x 10 TPI (similar to Grizzly model T20563)
Blade speed variable, 105 - 2102 FPM
Table tilt 45° right, 15° left,
Floor to table height 36-5/8"
Table size 23-1/2" x 21-5/8"
Overall dimensions 77-1/8"H x 47-1/4"W x 29-1/2"D
Base footprint: 41-3/4" x 20-3/4"
Approx. shipping weight 1133 lbs.
Features:
Rack-and-pinion upper guide adjustment
Precision ground cast-iron table
Fully balanced cast-iron wheels
Built-in blade welder and grinder
Work light
Compressed air coolant system
View More Details