Item# G0668 Model# G0668
Grizzly G0668 - 20" 2 HP Vertical Metal-Cutting Bandsaw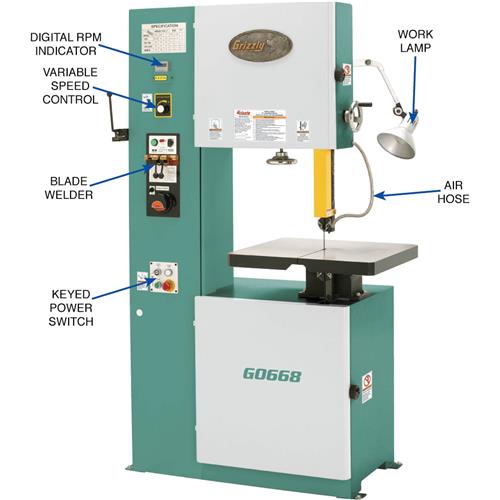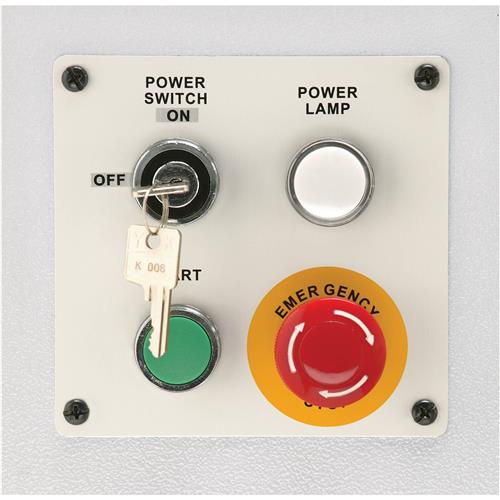 G0668 20" 2 HP Vertical Metal-Cutting Bandsaw
An efficient machine for most of your metal-cutting needs.
Enjoy the benefits of a large capacity vertical bandsaw with the ability to make internal cuts in one self-contained machine.
The G0668 20" 2 HP Vertical Metal-Cutting Bandsaw has a built-in blade shear, welder, and grinder allows you to cut the blade, feed it through the work piece and weld it back together again.
The blade is also cooled during the cut by an on-board air compressor and air nozzle so there's no messy liquid coolant system.
The variable blade speed control lets you dial in the optimum speed for any type of metal-cutting job and the balanced cast-iron wheels ensure extremely smooth operation.
Like all Grizzly bandsaws, the G0668 comes with a 1-year warranty which covers parts and assures the unit is free from factory defects.
The G0668 manual was written by our U.S. based Technical Documentation Department and is packed with useful information. The complete and easy-to-read manual provides full instructions on how to assemble and maintain your metal-cutting bandsaw.
The Grizzly Customer Service and Technical Support Teams are U.S. based. Parts and accessories for the bandsaw are available online and shipped from the Grizzly parts warehouse in Springfield, MO.
SPECIFICATIONS:
Main motor: 2 HP, 220V, 3-phase, 6.6A
Grinder motor: 1/8 HP, 220V, single-phase, 0.6A
Throat capacity: 19-3/4"
Maximum cutting height: 12-5/8"
Blade length: 154-1/2"–159-3/4"
Blade size range: 1/8"–3/4"
Included blade size: 157" x 3/8" x 10 TPI
Blade speed: Variable, 105–2102 FPM
Table tilt: 45° right, 15° left
Table size: 23-1/2" x 21-5/8"
Floor to table height: 36-5/8"
Overall dimensions: 47-1/4" W x 29-1/2" D x 77-1/8" H
Approx. shipping weight: 1133 lbs.
FEATURES:
Blade welding station with clamp for joining blade ends
Built-in blade grinder
Rack-and-pinion upper guide adjustment
Digital speed display
Compressed air coolant system
Precision ground cast-iron table
Fully-balanced cast-iron wheels
Work light
View More Details