Item# G0895 Model# G0895
Grizzly G0895 - 4' x 8' CNC Router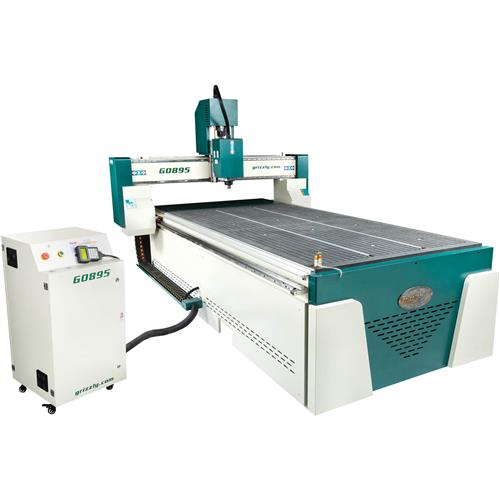 G0895 4' x 8' CNC Router
Unleash the full potential of your shop by adding this CNC.
The full-sized G0895 4' x 8' CNC router has the capacity to fit a full 4' x 8' sheet of plywood and has ample spindle clearance for those thicker workpieces such as live edge slabs.
The massive work area features a 6-zone vacuum table with a 10 HP pump to secure workpieces.
Between the 6 HP, 18,000 RPM spindle, and the AC servo-controlled X- and Y- axes that approach rapid speeds of 1,600 inches per minute, this router is ready to quickly remove material.
The ER32 collet system allows for a wide array of tooling options and the included tool setter makes it simple to set them up.
An air-cooled spindle and automatic oiler system mean no extra hassle with cooling systems or maintenance schedules.
The integrated, hand-held controller allows you to store programs to its hard drive or load programs from a flash drive. It can even connect directly to you PC for ultimate productivity gains.
This machine is compatible with many common CAD/CAM platforms including, but not limited to:
Vcarve and Vcarve Pro
Aspire
Cut2D
Fusion360
Solidworks
Type3
Artcam
UG
Pro/E
MasterCAM
Cimatron
Ucancam
If you are wanting a more in-depth overview of the design software used with the G0895, watch a three-part series on how to get started with CNC.
Like all Grizzly machines, the G0895 comes with a 1-year warranty which covers parts and assures the unit is free from factory defects.
The G0895 manual was written by our U.S. based Technical Documentation Department and is packed with useful information. The complete and easy-to-read manual makes it easier to assemble and maintain your machine.
The Grizzly Customer Service and Technical Support Teams are U.S. based. Parts for the CNC may be available online and shipped from the Grizzly parts warehouse in Springfield, MO.
SPECIFICATIONS:
Spindle motor: 6 HP, 220V, single-phase, 16A
X-, Y- and Z-axis motors: AC Servo, 7.1A
Cutting area: 51" x 98-1/2"
Z-axis travel: 11"
X- and Y- travel Speed: 1500 IPM
Z- travel speed: 400 IPM
Spindle speed: 0-18000 RPM
Collet Size: 1/4", 1/2"
Collet Type: ER32
Footprint: 122-1/2" L x 56-1/2" W
Overall dimensions: 85" W x 124" D x 72" H
Approximate shipping weight: 2535 lbs.
FEATURES:
Yaskawa 850W Servo Motor
Taiwan HIWIN linear guide
German WHM rack
10 HP Vacuum Pump
6-zone vacuum table
Please note: This item does not include COD/CAM software, Grizzly offers software from Vectric.
Due to product size, this item must be delivered to a loading dock or unloaded with a forklift. Liftgate not available.
View More Details
Backordered - More on the way