Item# G3155 Model# G3155
Grizzly G3155 - 8" x 20" Surface Grinder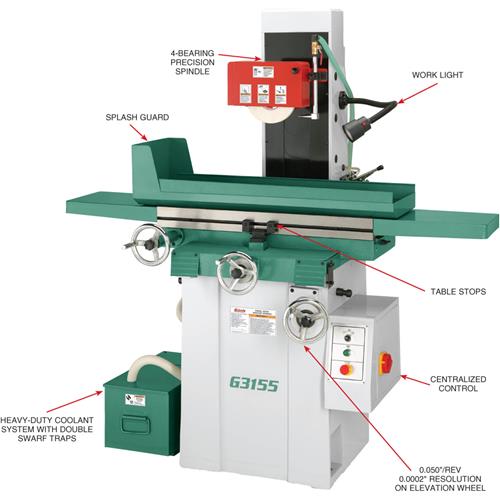 G3155 8" x 20" Surface Grinder
The surface grinder for those who need maximum capacity.
The G3155 8" x 20" Surface Grinder will take care of your high-precision, industrial-grade grinding and resurface metallic workpieces to create high-tolerance flat surfaces.
The large dials and fine thread screws yield maximum precision with the column dial having 0.001" Res/Rev 0.05" and the cross dial having 0.001" Res/Rev 0.1".
The flood coolant system offers many benefits including reducing the possibility of distortion of the workpiece from overheating, preventing the wheel from clogging, shorter grind times, longer wheel life and keeps the air in your shop free from grinding dust.
The body and base are constructed of durable cast-iron to provide the stiffness to reduce vibration expected from a high-precision machine.
The included diamond dresser is used to true the grinding wheel, ensuring high-precision results.
Secure your workpieces to the included 7-7/8" x 15-3/4" magnetic chuck.
Like all Grizzly surface grinders, the G3155 comes with a 1-year warranty which covers parts and assures the unit is free from factory defects. (Consumables are not covered by the warranty.)
The easy to read G3155 manual is packed with useful information making it easier to assemble and maintain your surface grinder.
The Grizzly Customer Service and Technical Support Teams are U.S. based. Parts and accessories for the surface grinder are available on-line and shipped from the Grizzly parts warehouse in Springfield, MO.
SPECIFICATIONS:
Motor: 2 HP, 220V, 3-phase, 6.8A
Table surface: 8" x 19-3/4"
Longitudinal travel: 23-1/8"
Cross travel: 9-1/8"
Maximum distance table to wheel: 13-7/8"
Column size: 9-1/4" x 12-3/4"
T-slot and size: 1/2" stud, 7/8" head
Grinding wheel: 1-1/4" B x 3/4" W x 8" D
Maximum grinding area: 10" x 21-1/2"
Spindle diameter: 1-1/4"
Spindle speed: 3450 RPM
Overall dimensions: 66" W x 43" D x 64" H
Approximate shipping weight: 1898 lbs.
FEATURES:
Flood coolant system
Column dial
Cross feed dial
Cast-iron cabinet
One-shot lubrication
Power indicator lights
Work light
7-7/8" x 15-3/4" magnetic chuck
Grinding wheel balancing kit
Dressing diamond with mount
Cast-iron construction
Includes 24-grit grinding wheel
View More Details