Item# W1671 Model# W1671
Shop Fox W1671 - Mortising Machine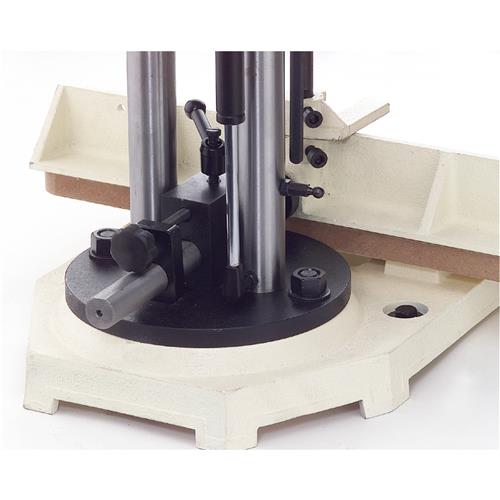 Buy now! Sale ends 7/31/22 (PST)
Shop Fox W1671 Mortising Machine
Cut straight, square-sided mortises in short order.
The Shop Fox W1671 Mortising Machine is a rugged, high-quality machine with all the features found in the best mortisers, but with none of their faults.
The super heavy-duty fence and hold down eliminate unwanted wood movement and "sticking chisels," (an all-too-common complaint with all mortisers), ensuring accurate and fast operation.
The solid-steel arm is especially easy to adjust; its length makes it possible to cut with less effort.
The unique swiveling base allows easy off-the-bench operations and opens new possibilities for custom mortises.
The precision 1/2" chuck eliminates the need to modify chisels and bits, and the extra height capacity allows the use of stock up to 7-3/8" thick.
The all-steel, quick-adjust depth stop is easy to set and designed with a positive stop mechanism to ensure the highest level of repeatable accuracy for repeatable operations.
With features like an 8-piece tool holder, easy two-door chuck access, and twin hardened-and-ground columns, you'll see why this is one of the most popular mortising machines on the market!
The maximum chisel size for this benchtop mortising machine is 5/8"
Like all Shop Fox machines, the W1671 comes with a 2-year warranty which covers parts and assures the unit is free from factory defects.
The W1671 manual was written by our U.S. based Technical Documentation Department and is packed with useful information. The complete and easy-to-read manual makes it easier to assemble and maintain your mortiser.
The Woodstock Customer Service and Technical Support Teams are U.S. based. Parts may be available online and shipped from the Woodstock parts warehouse in Springfield, MO.
SPECIFICATIONS:
Motor: 3/4 HP, 110V, single-phase, 8A
Maximum stock width: 8"
Maximum stock thickness: 7-3/8"
Maximum mortising depth: 4-1/2"
Maximum chisel travel: 4-3/4"
Spindle taper: JT #2
Spindle speed: 3450 RPM
Collar size: 5/8", 3/4"
Table dimensions: 16" W x 6" L x 3/4" T
Chuck: 1/2" JT #2
Overall dimensions: 16" W x 16" D x 29-1/2" H
Approximate shipping weight: 92 lbs.
FEATURES:
Two-year warranty!!
Hydraulic cylinder for softer releases
Double support columns
Unique swiveling base
Micro-adjustable fence
Heavy cast-iron construction
Adjustable depth-stop rod
Extra-long (22") quick-set handle
Includes 1/2" mortising chisel
View More Details