Item# G1035 Model# G1035
Grizzly G1035 - 1-1/2 HP Shaper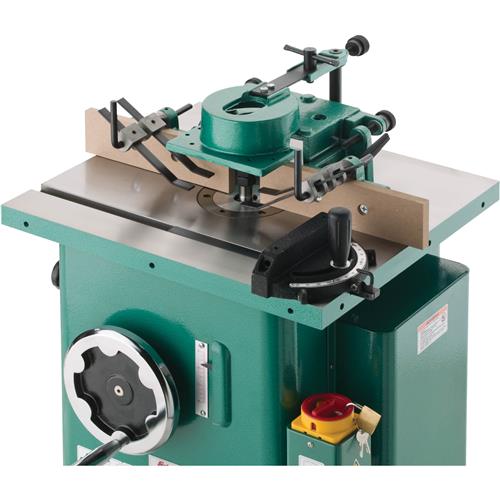 G1035 1-1/2 HP Shaper
Power, precision, and control unmatched by any router.
The G1035 1-1/2 HP Shaper was built with plenty of muscle to mill a wide variety of profiles on wood stock, perfect for hobbyists and cabinet shops. The 1-1/2 HP motor rotates the interchangeable spindles at 7000 and 10,000 RPMs. The forward/reverse switch start, stops and reverses spindle rotation can be disabled and locked with a padlock.
The G1035 comes with one aluminum insert and one cast-iron insert, giving you three possible diameter openings in the shaper table surface. Use the smallest opening that a particular cutter will allow. This offers more support for the workpiece and reduces the amount of chips that can fall into the machine.
The independently adjustable cast-iron fence screws to the precision-ground cast-iron table. Hold-down springs are used to hold the workpiece flat on the table and snug against the fence.
Additional features include a handwheel for spindle height adjustments and a spindle height scale that displays the height position of the spindle in inches—all for less than the price of a router and router table!
Like all Grizzly shapers, the G1035 comes with a 1-year warranty which covers parts and assures the unit is free from factory defects. (Consumables are not covered by the warranty.)
The G1035 manual was written by our U.S. based Technical Documentation Department and is packed with useful information. The complete and easy to read manual makes it easier to assemble and maintain your shaper.
The Grizzly Customer Service and Technical Support Teams are U.S. based. Parts for the shaper may be available online and shipped from the Grizzly parts warehouse in Springfield, MO.
Made in an ISO 9001 factory
CSA certified
SPECIFICATIONS:
Motor: 1-1/2 HP, 120V/240V (prewired 120V), single-phase, 12A/6A
Maximum cutter height: 2-1/2"
Maximum cutter diameter: 5"
Spindle diameters: 1/2" and 3/4"
Spindle lengths: 2-3/4" and 3-1/2"
Spindle capacity under nut: 2" and 2-1/2"
Spindle speeds: 7000 and 10,000 RPM
Spindle travel: 3"
Table insert openings: 1-1/4", 3-1/2", 5"
Table counterbore: 5" dia. x 7/16"
Table size: 20-1/4"x 18"
Floor-to-table height: 33-1/2"
Footprint: 15-1/2"x 17-1/2"
Overall dimensions: 22" W x 25" D x 40-1/2" H
Approximate shipping weight: 221 lbs.
FEATURES:
Two spindle speeds
Motor reversing switch
Precision-ground cast-iron table
Independently adjustable cast-iron fence with safety guard
Hold-down springs
Steel cabinet-type stand
Powder-coated finish
Cast-iron miter gauge & starting pins
Includes 1/2" & 3/4" spindles
View More Details