Item# T26417 Model# T26417
Grizzly T26417 - 1/2 HP Benchtop Oscillating Sander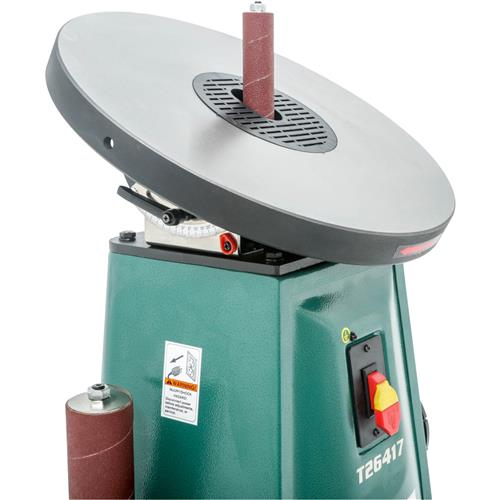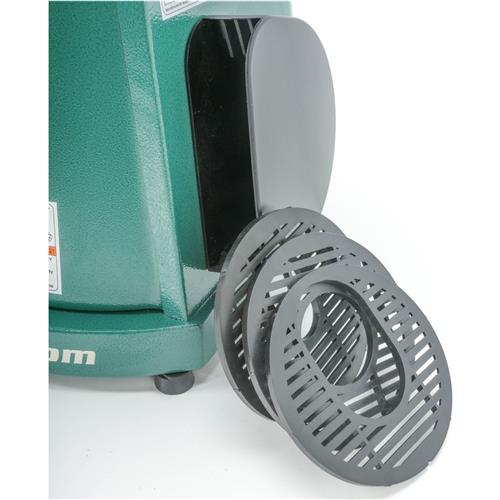 T26417 1/2 HP Benchtop Oscillating Sander
Mighty and packed with features.
Weighing in at 73 pounds, the T26417 1/2 HP Benchtop Oscillating Sander means business. The cast-iron table combined with the steel base and stand provides a solid sanding platform for all your curved sanding needs.
This is the only Grizzly benchtop oscillating spindle sander with an adjustable table. The 15" diameter table tilt ranges from 0° to 45°.
The T26417 is powered by a 1/2 HP motor that spins the spindle at 1725 RPM and oscillates at 29 OPM with a 15/16" stroke.
With three different diameters of sanding drums, sanding curves of all shapes, and sizes will never be a problem.
Onboard storage keeps the sanding drums and table inserts closely organized.
Like all of the Grizzly spindle sanders, the T26417 comes with a 1-year warranty covering parts and assuring the unit is free from factory defects. (Consumables are not covered by the warranty.)
The T26417 manual was written by our U.S. based Documentation Department is packed with useful information.
The Grizzly Technical Support team is U.S. based. Parts and accessories for the spindle sander may be available online and shipped from the Grizzly parts warehouse in Springfield, MO.
SPECIFICATIONS:
Motor: 1/2 HP, 120V, single-phase, 3.4A
Spindle speed: 1725 RPM
Spindle stroke: 15/16"
Spindle oscillations: 29 OPM
Spindle diameters: 3/4", 1", 2"
Spindle length: 3-1/2", 4-1/2", 5-1/2"
Table diameter: 15"
Table thickness: 1-1/4"
Dust port size: 2-1/2"
Overall dimensions: 15" W x 15" D x 24" H
Approximate shipping weight: 78 lbs.
FEATURES:
Paddle safety switch with removable key
Cast iron work table
Up to 45° of table tilt
Sanding drum holder
Table insert holder
Firm grip rubber feet
Includes 4 table inserts and spindle wrench
View More Details