Item# G0739 Model# G0739
Grizzly G0739 - 1/2 HP Benchtop Oscillating Spindle Sander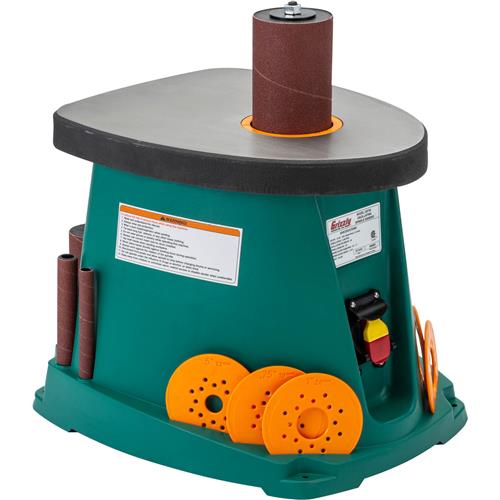 G0739 Benchtop 1/2 HP Oscillating Spindle Sander
A truly great benchtop machine.
Don't let the compact size fool you. The G0739 Benchtop 1/2 HP Oscillating Spindle Sander with cast-iron table will handle just about any job you throw at it.
Sand curves of all shapes and sizes with the six included 4-1/2" long sanding sleeves, ranging in size from 1/2" to 3" in diameter.
Your sanding sleeves, drums, table inserts, and spindle washers will never be far out of reach with the built-in storage designed to keep all of your components organized and handy.
Last but not least, the paddle safety switch with removable key helps prevent unauthorized use or accidental startups.
Like all Grizzly spindle sanders, the G0739 comes with a 1-year warranty covering parts and assures the unit is free from factory defects. (Consumables are not covered by the warranty.)
The G0739 manual was written by our U.S. based Technical Documentation Department is packed with useful information.
The Grizzly Technical Support team is U.S. based. Parts and accessories for the spindle sander are available on-line and shipped from the Grizzly parts warehouse in Springfield, MO.
Certified to CSA & UL standards
SPECIFICATIONS
Motor: 1/2 HP, 120V, single-phase, 3.5A
Table size: 11-1/2" x 15"
Spindle speed: 2000 RPM
Spindle stroke: 5/8"
Spindle oscillations: 58 SPM
Spindle diameter: 1/2"
Sanding drum length: 4-1/2"
Sanding drum diameters: 1/2", 3/4", 1", 1-1/2", 2", 3"
Dust port size: 1-1/2"
Footprint: 14" x 15-1/2"
Overall dimensions: 15-9/16" W x 14-1/8" D x 17" H
Approximate shipping weight: 33 lbs.
INCLUDES:
(5) 4-1/2" Rubber sanding drums: 3/4", 1", 1-1/2", 2", 3" diameter
(6) 80-grit sanding sleeves: 1/2", 3/4", 1", 1-1/2", 2", 3" diameter
(6) Table inserts
(3) Spindle washers
Spindle wrench
View More Details