Item# G0898 Model# G0898
Grizzly G0898 - 2" x 48" 2-Wheel Belt Grinder/Sander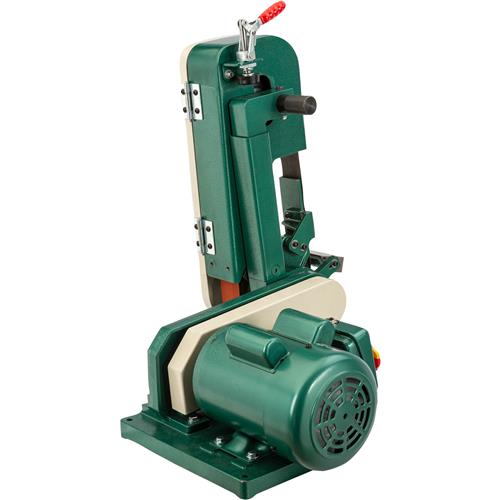 G0898 2" x 48" 2-Wheel Belt Grinder/Sander
Suitable for any home or professional shop.
Featuring the popular 2" wide belt, the G0898 2" x 48" 2-Wheel Belt Grinder/Sander is great for knife making and many more uses.
The powerful 1 HP motor moves the belt at 4000 FPM, allowing you to easily remove material from even the toughest steel.
The pivoting action of the head from 0–90° allows you to position the workpiece in the perfect location.
The rigid cast-iron frame reduces chatter during operation.
For use with our wide selection of ceramic and aluminum oxide belts for rapid material removal and shaping.
Like all of the Grizzly grinder/sanders, the G0898 comes with a 1-year warranty covering parts and assuring the unit is free from factory defects. (Consumables are not covered by the warranty.)
The G0898 manual was written by our U.S. based Documentation Department is packed with useful information.
The Grizzly Technical Support team is U.S. based. Parts for the grinder/sander may be available online and shipped from the Grizzly parts warehouse in Springfield, MO.
SPECIFICATIONS:
Motor: 1 HP, 110V/220V (prewired 110V), single-phase, 11A/5.5A
Belt size: 2" x 48"
Belt speed: 4000 FPM
Belt tilt: 0–90°
Platen size: 2" x 5-7/8"
Work table size: 2-1/2" x 3-5/8"
Footprint: 10-1/2" L x 13" W
Overall dimensions: 22-1/2" W x 28-1/2" D x 28-1/2" H
Approximate shipping weight: 137 lbs.
FEATURES:
Quick-release belt tension
Removable vertical platen
Rubber-coated contact wheel
Adjustable-angle work table
Pivoting cast-iron frame
2" x 48" 150-grit belt included
*This machine is prewired for 110V operation. 220V operation requires purchase and installation of conversion kit P0898061-2X.
View More Details