Item# W1704 Model# W1704
Shop Fox W1704 - 8" x 13" Benchtop Wood Lathe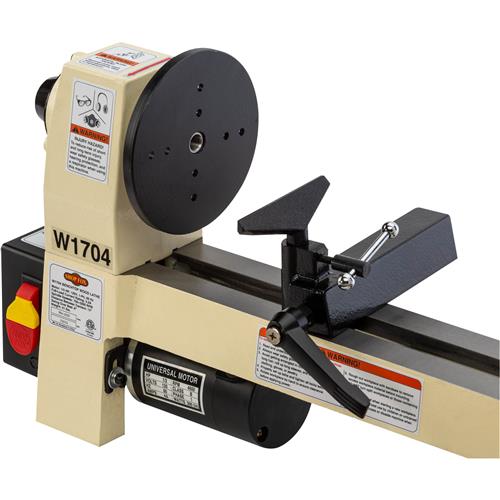 W1704 Shop Fox 8" x 13" Benchtop Wood Lathe
Ideal for pen turning and small projects.
The Shop Fox W1704 Benchtop Wood Lathe with cast-iron construction and variable-speed spindle offers the precision and control that pen turners and miniature hobbyists demand.
Made in an ISO 9001 factory
ETL certified
SPECIFICATIONS:
Motor: 1/3 HP, 120V, single-phase, 4A
Swing over bed: 8"
Swing over tool rest base (banjo): 5"
Distance between centers: 13"
Spindle speed: Variable, 750-3200 RPM
Spindle threads: 3/4" x 16 TPI RH
Spindle taper: MT#1
Tailstock taper: MT#1
Footprint: 5-1/2" x 23-1/2"
Overall dimensions: 29" W x 10-1/2" D x 13" H
Approx. shipping weight: 52 lbs.
FEATURES:
INCLUDES:
Safety paddle switch
MT#1 spur center
MT#1 live center
4-1/4" and 7" tool rests
5-3/4" faceplate
3/4" x 16 TPI RH spindle
View More Details