Item# SB1093 Model# SB1093
South Bend SB1093 - 6" x 48" Belt / 12" Disc Combination Sander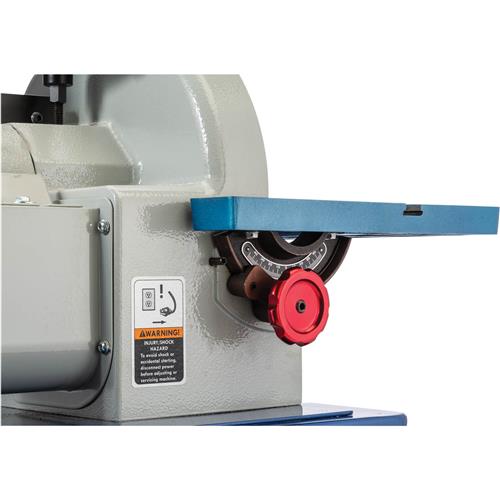 SB1093 South Bend 6" x 48" Belt / 12" Disc Combo Sander
Sand right to the line with precision and confidence.
As you approach the layout lines on your custom project, you want the confidence of strong, reliable machinery and precision components supporting your every move.
The SB1093 is the last word on belt/disc sanders, built to true South Bend high-precision industrial standards.
The precision-ground cast-iron belt and disc sanding tables each tilt from 0–45° and feature a slot for the included miter gauge.
Additionally, the entire belt assembly pivots for vertical, horizontal, or angled sanding–with machined detents for locking at 0, 45°, and 90°.
The large-footprint, heavy-duty one-piece cabinet steel base makes for vibration-free operation and houses the 1-1/2 HP TEFC motor and 4" dust port.
This reliable, precision-made, smooth-running sander is a must for any serious woodworking shop. From fairing complex curves, to squaring the ends of custom-turned bowls or vases–and everything between, the SB1093 is the perfect combination sander for the job.
For a full range of replacement belts for the SB1093, shop here. Replacement PSA sanding discs are available in a variety of grits.
Like all South Bend woodworking machines, the SB1093 comes with a 2-year warranty and is built to South Bend high-precision industrial standards.
The manual was written by our U.S. based Technical Documentation Department and is packed with useful information.
The South Bend Customer Service and Technical Support Teams are U.S. based. Parts may be available online and shipped from the South Bend parts warehouse in Springfield, MO.
Made in an ISO 9001 factory
SPECIFICATIONS:
Motor: 1-1/2 HP, 115V/230V (prewired 115V), single-phase, 14A/7A
Sanding belt size: 6" x 48"
Sanding belt speed: 2690 FPM
Platen size: 6" x 14-1/2"
Belt sanding head tilt: 0–90°
Belt sanding table size: 10" x 14"
Belt sanding table tilt: 0–45°
Sanding disc diameter: 12"
Sanding disc speed: 2360 RPM
Sanding disc type: PSA
Disc sanding table size: 9" x 17-3/8"
Disc sanding table tilt: -15°–45°
Number of dust ports: 1
Dust port size: 4"
Footprint: 19" x 21"
Overall size: 28" W x 30" D x 54-1/2" H
Approximate shipping weight: 327 lbs.
FEATURES:
Two precision-ground cast-iron tables
Heavy-duty cabinet stand
Heavy-duty miter gauge
US based customer service and technical support
View More Details