Item# T21320 Model# T21320
Grizzly T21320 - 12" Combination 3-in-1 Sheet Metal Machine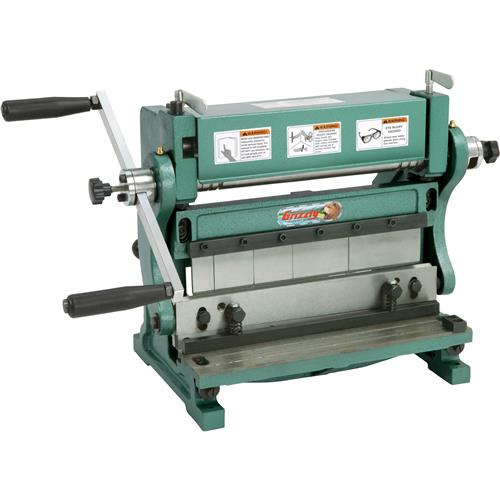 T21320 12" Combination 3-in-1 Sheet Metal Machine
A combination machine that shears, brakes, and slip rolls!
The compact and easy-to-use T21320 12" Combination 3-in-1 Sheet Metal Machine saves money and space by only requiring on tool to perform.
It is designed to bend and cut sheet metal up to 22-gauge in thickness and 12" in width.
The slip rollers are used to flatten or form cylinders, cones, and arcs in sheet metal.
The brake portion of the machine is designed to create bends up to 90° and to fold sheet metal into boxes, pans, or trays.
Brake attachment comes with sectional fingers for forming various sized boxes.
With the use of the hand crank, the upper shear blade moves down past the fixed table blade, from left to right, to shear the workpiece that is supported on the table.
The heavy-duty roller mechanisms are ground for ultra-smooth rolling functions.
Includes a hinged roller cover for added safety and security.
Like all Grizzly sheet metal machines, the T21320 comes with a 1-year warranty which covers parts and assures the unit is free from factory defects.
The T21320 manual was written by our U.S. based Technical Documentation Department and is packed with useful information.
The complete and easy-to-read manual makes it easier to assemble and maintain your 3-in-1 machine.
The Grizzly Customer Service and Technical Support Teams are U.S. based.
Parts for the 3-in-1 machine may be available online and shipped from the Grizzly parts warehouse in Springfield, MO.
SPECIFICATIONS:
Maximum workpiece thickness: 22-gauge
Maximum workpiece width: 12"
Pan/box brake minimum reverse bend: 3/4"
Pan/box brake maximum side height @ 90°: 2"
Slip roll minimum cylinder diameter: 1-1/2"
Slip roll wire sizes: 1/8", 11/64", 13/64"
Pan/box maximum side height: 2"
Approximate shipping weight: 114 lbs.
FEATURES:
Shear table front guide
Shear and brake adjustable rear stop
Hardened steel brake fingers
Precision-ground hardened steel shear blade
View More Details