Item# G0509G Model# G0509G
Grizzly G0509G - 16" x 40" 3-Phase Gunsmithing Metal Lathe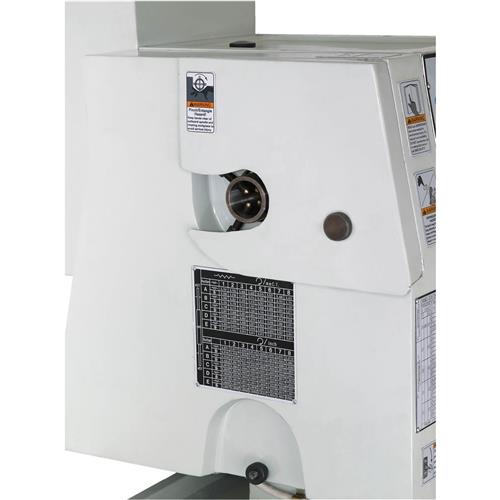 G0509G 16" x 40" 3-Phase Gunsmithing Metal Lathe
The original Grizzly gunsmithing metal lathe.
The G0509G 16" x 40" 3-Phase Gunsmithing Metal Lathe came to life after the founder of Grizzly was talking to his gunsmith.
Frustrated that there wasn't a lathe specifically for gunsmithing, he shared a "laundry" list of features he would want in his dream setup.
This dream list for the lathe included super high-precision spindle bearings with high-precision ground gears, two coolant nozzles for chambering, and a longer tailstock for barrel support.
The spider mount system has four screws that stabilize long shafting and rifle barrels through the outboard end of the spindle.
Supplied with a two-speed 4 HP/3HP motor, the 16-speed gearhead produces spindle speeds from 45-1800 RPM.
The tailstock lock system allows you to use a 1/2" torque wrench to clamp the tailstock in place at a pre-determined torque setting. This ensures consistent draw-down alignment every time.
Like all Grizzly gunsmithing lathes, the G0509G comes with a 1-year warranty covering parts and assuring the unit is free from factory defects.
The G0509G manual was written by our U.S. based Documentation Department and is packed with useful information. The complete and easy-to-read manual makes it easier to assemble and maintain your lathe.
The Grizzly Technical Support team is U.S. based. Parts and accessories for the lathe may be available online and shipped from the Grizzly parts warehouse in Springfield, MO.
SPECIFICATIONS:
Main motor: 4 HP/3HP, 220V, 3-phase, 2-speed, 17A/8.5A
Coolant motor 1/8 HP, 0.45A
Swing over bed: 16"
Bed width: 10"
Swing over gap: 22"
Swing over cross slide: 10"
Distance between centers: 40"
Spindle nose: D1-6 camlock
Spindle taper: MT#6 with MT#4 adapter
Tailstock taper: MT#4
Tailstock quill travel: 4-3/4"
Cross slide travel: 8-1/2"
Compound travel: 5-1/2"
Spindle speed: 16, 45-1800 RPM
Range of threads (inches): 45, 2-72 TPI
Range of threads (metric): 39, 0.2-14 mm
Diametrical pitch range: 21, 8-44 DP
Modular pitch range: 18, 0.3-3.5 MP
Overall dimensions: 76-3/8" W x 33-7/16" D x 51-3/16" H
Approximate shipping weight: 3300 lbs.
FEATURES:
MT#4 x MT#6 spindle nose adapter
Socket for tailstock lock
Precision-ground and hardened V-way bed
STANDARD EQUIPMENT:
8" 3-Jaw universal chuck
12" 4-Jaw independent chuck
14" Faceplate
Steady rest
Follow rest
LED lighting
Coolant system
Full length splash guard
Dual inch/metric dials
Jog button and emergency stop button
#4 to 6 Morse taper sleeve
Due to product size, this item must be delivered to a loading dock or unloaded with a forklift. Liftgate not available.
View More Details