Item# G1014ZX Model# G1014ZX
Grizzly G1014ZX - 6" x 48" Belt/9" Disc Combo Sander with Cabinet Stand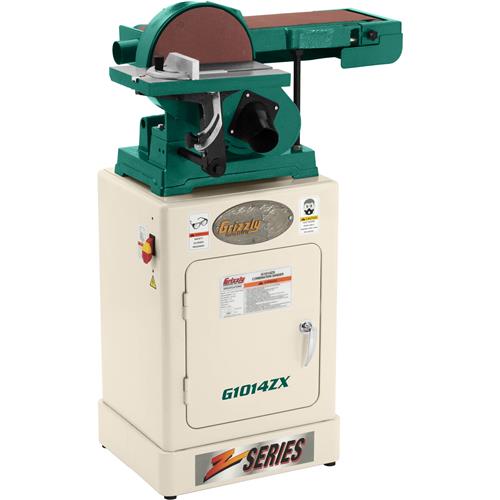 G1014ZX 6" Belt / 9" Disc Combination Sander
A heavy-duty combination sander with a cabinet stand for storage and added rigidity.
The G1014ZX 6" x 48" Belt / 9" Disc Combination Sander can be used to smooth the faces, edges, or ends of workpieces using the sanding belt or the sanding disc.
The 6" x 48" sanding belt tilts 90° and can be used in both horizontal and vertical positions, or any angle between, based on your needs. For a full range of replacement belts for the G1014Z, shop here.
The back stop supports workpieces on the belt sander in any position.
The 6" W x 12-1/4" L cast-iron work table supports workpieces when using the 9" sanding disc. Replacement PSA sanding discs are available in a variety of grits.
The work table tilts from 0° left to 45° right and the miter gauge can be adjusted 60° left to 60° right for the desired angle.
The G1014ZX features a solid cabinet stand for rock-steady performance.
A built-in storage shelf holds plenty of replacement belts and discs.
Like all Grizzly combination sanders, the G1014ZX comes with a 1-year warranty which covers parts and assures the unit is free from factory defects.
The G1014ZX manual was written by our U.S. based Technical Documentation Department and is packed with useful information. The complete and easy-to-read manual provides full instructions on how to assemble and maintain your sander.
The Grizzly Customer Service and Technical Support Teams are U.S. based. Parts for the combination sander may be available online and shipped from the Grizzly parts warehouse in Springfield, MO.
Made in an ISO 9001 factory
SPECIFICATIONS:
Motor: 3/4 HP, 110V/220V (prewired for 110V), single-phase, 12A/6A
Sanding belt size: 6" x 48"
Sanding belt speed: 1900 FPM
Platen size: 6-1/4" x 17"
Belt sanding head tilt: 0–90°
Sanding disc diameter: 9"
Sanding disc speed: 2420 RPM
Sanding disc type: PSA
Disc sanding table size: 6" W x 12-1/4" L
Disc sanding table tilt: 0&deg–45°
Number of dust ports: 2
Dust port sizes: 2" and 2-1/2"
Footprint: 15" x 16-1/2"
Overall size: 30" W x 24" D x 56" H
Approximate shipping weight: 158 lbs.
FEATURES:
Cabinet stand with storage locker
Exclusive quick belt-release mechanism
Cast-iron table, disc, and body
Graphite-coated platen
View More Details