Item# T27305 Model# T27305
Grizzly T27305 - 8" Variable-Speed Grinder with Light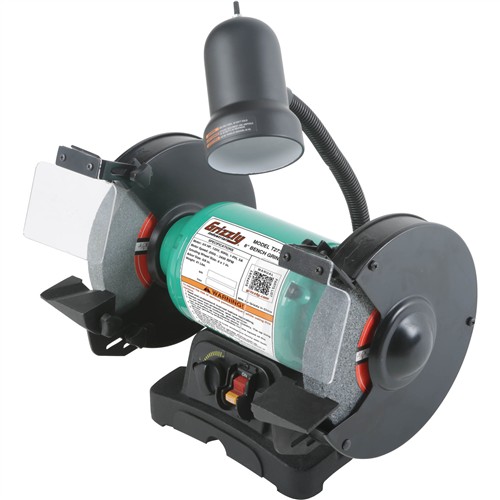 T27305 8" Variable-Speed Grinder with Light
Dial in your grinding wheels thanks to the variable-speed.
The T27305 8" Variable-Speed Grinder with Light sports a 3/4 HP, 120V motor with a range of 2000 - 3400 RPM to address all your grinding needs.
The adjustable gooseneck light and adjustable eye shields allows you to put the light right where you need it and make sure you're safe about it as well.
It also features aluminum tool rests and a coolant tray, as well as a two wheels (one 36-grit and one 60-grit) to get you started.
Like all Grizzly grinders, the G0865 comes with a 1-year warranty which covers parts and assures the unit is free from factory defects.
The G0865 manual was written by our U.S. based Technical Documentation Department and is packed with useful information. The complete and easy to read manual makes it easier to assemble and maintain your grinder.
The Grizzly Customer Service and Technical Support Teams are U.S. based. Parts and accessories for the grinder are available on-line and shipped from the Grizzly parts warehouse in Springfield, MO.
CSA certified
SPECIFICATIONS:
Motor: 3/4 HP, 120V, Single-Phase, 5A
Right wheel grit: 36-grit
Left wheel grit: 60-grit
Wheel material: Aluminum oxide
Wheel speed: variable, 2000-3400 RPM
Wheel bore: 5/8"
Wheel dimensions: 8" diameter x 1" thick
Overall dimensions: 17" W x 12-3/4" D x 14-1/2" H
Approximate shipping weight: 44 lbs.
FEATURES:
Variable-speed control
Cast-iron base
Multi-angle positional light & eye shield
Left tool rest grooved for drill bits
View More Details