Item# H7762 Model# H7762
Grizzly H7762 - Heavy-Duty Tool Grinder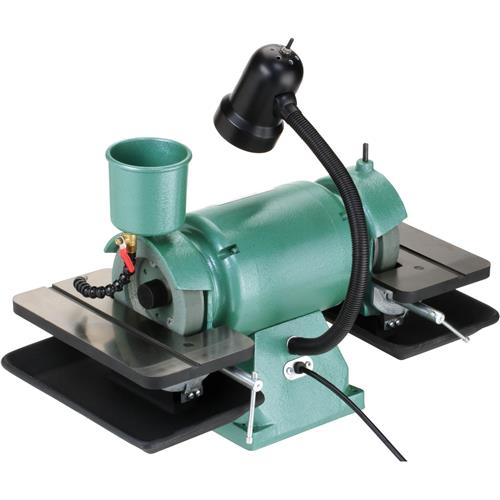 H7762 Heavy-Duty Tool Grinder
Grind your own tooling with this Heavy-Duty Tool Grinder.
The H7762 Heavy-Duty Tool Grinder is perfect for the shop of any metalworker.
The motor is 1/2 HP, 110V, single-phase, reversible, and 3450 RPM.
The H7762 features dual 80-grit silicon-carbide grinding wheels, 0°–45° tilting cast-iron tables, and removable drip trays.
Also included is the interchangeable gravity-feed coolant dispenser with adjustable flow, miter gauge, and flexible-neck work light.
Uses 6" Type-50 wheels with 1-1/4" bore.
Like all Grizzly grinders, the H7762 comes with a 1-year warranty which covers parts and assures the unit is free from factory defects.
The H7762 manual was written by our U.S. based Technical Documentation Department and is packed with useful information. The complete and easy-to-read manual makes it easier to assemble and maintain your grinder.
The Grizzly Customer Service and Technical Support Teams are U.S. based. Parts and accessories for your machine are available online and shipped from the Grizzly parts warehouse in Springfield, MO.
SPECIFICATIONS:
Motor: 1/2 HP, 110V, single-phase, 6.3A
Grinding wheel size: 6" x 1"
Wheel bore: 1-1/4"
Wheel speed: 3450 RPM
Wheel grit: 80 grit
Wheel type: Type 50
Overall dimensions: 24-3/4" W x 12-3/4" D x 23" H
Approximate shipping weight: 98 lbs.
FEATURES:
Work support tables
Coolant trays
Two-way rocker-type switch
Convenient coolant cup/dispenser
Includes two silicon carbide 80 grit grinding wheels
View More Details
Backordered - More on the way