Item# W1888 Model# W1888
Shop Fox W1888 - 10" Hybrid Table Saw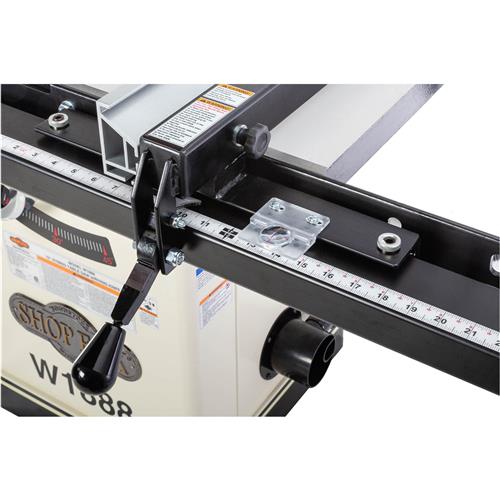 Buy now! Sale ends 1/1/23 (PST)
Motor: 2 HP
Tablesaw type: Hybrid
Blade size: 10 in.
Maximum cutting height @ 90deg: 3-1/8 in.
Maximum cutting height @ 45deg: 2-1/8 in.
Maximum ripping capacity - right: 31 in.
Table type: Precision-Ground Cast Iron
Overall table size: 40-1/8 in. x 27 in.
Shipping weight: 449 lbs.
Hover to View Details
Overview
Shop Fox W1888 10" Hybrid Table Saw
A hybrid table saw with innovative features.
The W1888 10" Hybrid Table Saw from Shop Fox combines features of a cabinet-style table saw and a job site table saw.
Like a cabinet saw, it has a precision-ground cast-iron table, a cabinet-mounted cast-iron trunnion, and a Poly-V drive belt for reduced noise/vibration.
It is compact with a smaller footprint and has a price that's significantly lower than a cabinet saw.
The W1888 efficiently collects sawdust in two capacities: off top through the dust port on the blade guard and below through the internal dust shroud. These merge just before the 4" dust port.
The easy-glide, two position fence system quickly converts for narrow ripping.
The 2 HP dual voltage motor is prewired for standard household power and will rip all day long.
This combination of features will beat all others in its class.
Like all Shop Fox table saws, the W1888 comes with a 2-year warranty which covers parts and assures the unit is free from factory defects. (Consumables are not covered by the warranty.)
The W1888 manual was written by our U.S. based Technical Documentation Department and is packed with useful information. The complete and easy-to-read manual makes it easier to assemble and maintain your saw.
The Woodstock Customer Service and Technical Support Teams are U.S. based. Parts for the saw may be available online and shipped from the Woodstock parts warehouse in Springfield, MO.
Made in an ISO 9001 factory
CSA certified
SPECIFICATIONS:
Motor: 2 HP, 115V/230V (prewired 115V), single-phase, 16A/8A
Rip capacity: 31-1/2" right, 11-3/8" left of blade
Max depth of cut at 90°:3-1/8"
Max depth of cut at 45°: 2-1/8"
Table Size: 40-1/8" x 27"
Distance from front of table to center of blade: 16-1/4"
Floor-to-table height: 34-1/4"
Arbor diameter: 5/8"
Arbor speed: 4000 RPM
Max width of dado: 13/16"
Dust port size: 4"
Footprint: 19-1/2" x 20-1/2"
Overall dimensions: 66" W x 40" D x 48" H
Approximate shipping weight: 449 lbs.
FEATURES:
Two-year warranty!!
Built-In dust port on blade guard
Easy-glide fence system with micro-adjustment
Deluxe 2-position aluminum rip fence
Precision-ground cast-iron table
Cabinet-mounted cast-iron trunnions
Quick-release riving knife
Heavy cast handwheels
T-slot miter gauge
4" Dust port