Item# W1678 Model# W1678
Shop Fox W1678 - 26" 5 HP Drum Sander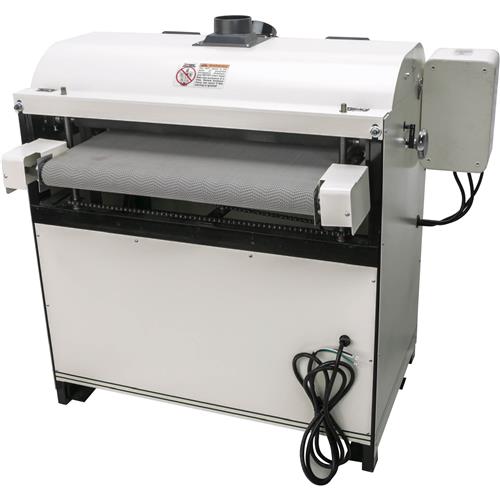 W1678 Shop Fox 26" 5 HP Drum Sander
Push aside those old handheld sanders and make room for this drum sander.
Whether quickly sanding large quantities of panel assemblies or achieving "tear-out" free finishes on figured wood, the Shop Fox W1678 26" 5 HP Drum Sander performs like a champ in even the most demanding shops.
The W1678 accepts large materials at a full 26" wide and up to 4" thick. This dual drum sander can be fitted with two different grits, allowing both rough and finish sanding in one pass.
The variable-speed feed from 0 to 20 feet per minute allows you to find the perfect feed rate for your sanding project.
For a full range of replacement paper for the W1678, shop here.
Like all Shop Fox drum sanders, the W1678 comes with a 2-year warranty which covers parts and assures the unit is free from factory defects. (Consumables are not covered by the warranty.)
The W1678 manual was written by our U.S. based Technical Documentation Department and is packed with useful information. The complete and easy-to-read manual makes it easier to assemble and maintain your sander.
The Woodstock Customer Service and Technical Support Teams are U.S. based. Parts for the sander may be available online and shipped from the Woodstock parts warehouse in Springfield, MO.
Made in an ISO 9001 factory
SPECIFICATIONS:
Sanding motor: 5 HP, 220V, single-phase, 25A
Conveyor motor: 1/3 HP, 2A
Sandpaper speed: 2300 FPM
Feed rate: Variable, 0–20 FPM
Conveyor belt size: 26-1/8" x 74"
Max. stock dimensions: 26" W x 4-1/4" H
Min. board length: 9"
Min. board thickness: 1/8"
Sanding drums: Two 6", aluminum
Sandpaper size: 3" x 195" hook & loop
Dust ports: Two 4"
Overall dimensions: 50" W x 37" D x 44-1/2" H
Approximate shipping weight: 546 lbs.
FEATURES:
Two-year warranty!!
Dual drum with hook & loop sandpaper attachment
Powder-coated finish
All ball-bearing construction
Micro-adjustable rear drum
View More Details