Item# SB1028F Model# SB1028F
South Bend SB1028F - 10" x 54" 5 HP Single-Phase Mill with DRO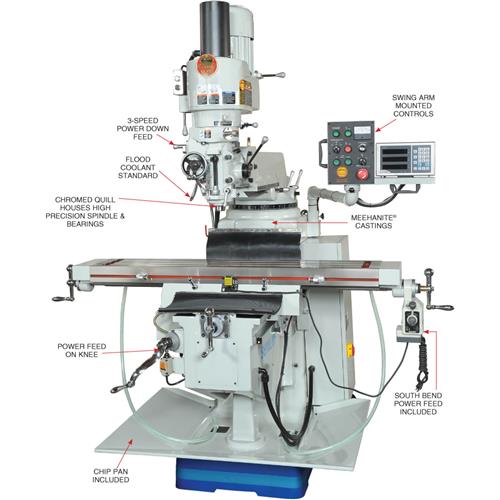 SB1028F 10" x 54" 5 HP Single Phase Mill with DRO
A South Bend mill with large capacities and high tolerances.
The SB1028F South Bend 10" x 54" 5 HP Single Phase Mill with DRO features 3-axis table movement with built-in X-axis and Z-axis power feed.
The mill is constructed with high-grade Meehanite castings for maximum accuracy and support through the full range of movement.
The saddle and knee ways are hand-scraped and Turcite-coated with wide dovetails for smooth, ultra-precise movement.
A Fagor 3-axis digital readout (DRO) reads down to a 0.0002" resolution for repeatable, accurate milling operations.
An Align PD-200 power drawbar increases performance and production by cutting down the time it takes to change out the tooling.
The SB1028F uses a Yasakawa VS-606V7 inverter with a 5HP induction motor to provide true variable spindle speed from 60-5000 RPM.
The headstock is mounted on a wide-dovetail movable ram with 19-1/2" of travel and 360° rotating capability.
The headstock itself can swivel 90° left/right or 45° forward/back so it can be positioned for nearly any setup needed.
The spindle taper is R8 and the spindle has powered down feed with fine, medium and coarse feed controls.
Quality Allen-Bradley electrical components and attention to detail provide dependable electrical control of the powered movements.
The SB1028F manual was written by our U.S. based Technical Documentation Department and is packed with useful information.
All South Bend mills come with a 2-year warranty which covers parts and assures the unit is free from factory defects.
Parts and accessories for the mill are available online and shipped from the South Bend parts warehouse in Springfield, MO.
SPECIFICATIONS:
Spindle motor: 5 HP, 220V, 3-phase, 14A
Spindle travel: 5"
Longitudinal travel: 35"
Cross travel: 16"
Vertical travel: 14-1/4"
Ram travel (In/Out): 19-1/2"
Ram swivel: 360°
Head swivel: 90°
Head tilt: 45°
End milling capacity: 1"
Face milling capacity: 4"
Table size: 10" W x 54" L x 3" T
Table capacity: 750 lbs.
Spindle taper: R-8
Spindle speeds: variable, 60-5000 RPM
Dimensions: 66" W x 77" D x 89" H
Footprint: 41-1/2" L x 24-1/2" W
Approximate shipping weight: 3344 lbs.
FEATURES:
Fagor DRO
Align power drawbar
Allen-Bradley electrical controls
Yasakawa power inverter
Table elevation power feed (Z-axis)
Variable-speed longitudinal power feed (X-axis)
Auto-downfeed with micro-adjustable stop

Due to product size, this item must be delivered to a loading dock or unloaded with a forklift. Liftgate not available.
View More Details
Backordered - More on the way