Item# SB1009 Model# SB1009
South Bend SB1009 - Super Precision Digital Threading Collet Lathe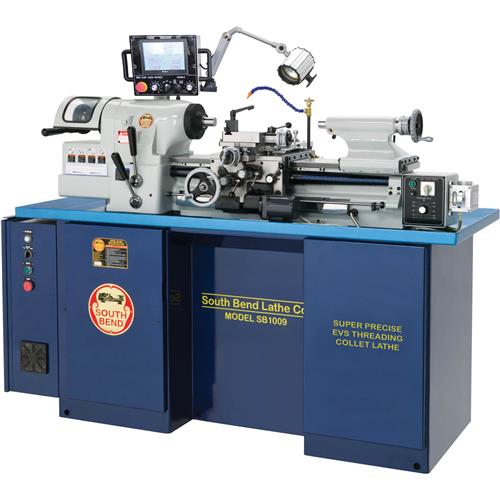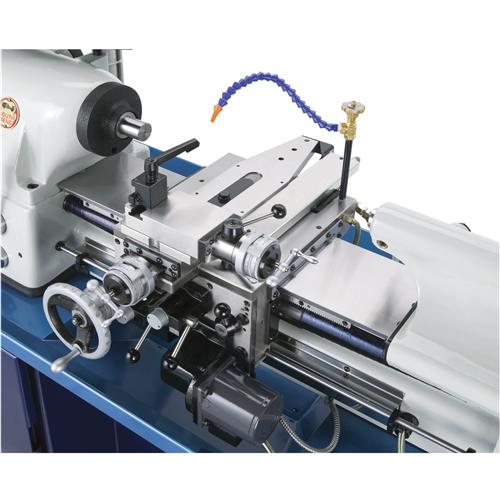 SB1009 Super Precision Digital Threading Collet Lathe
This SB1009 Super Precision Digital Threading Collet Lathe features a super precision digital threading control, which replaces the traditional threading gearbox with a microprocessor-controlled, servo-driven leadscrew.
Simply type in the desired thread pitch on the numeric pad of the touchscreen LCD panel and start the threading cycle.
This system controls and synchronizes the main spindle rotation on 2-axis feed rate to produce a precise threading cycle for any given inch or metric thread pitch.
The spindle is hardened and ground then mounted on high-precision pre-loaded angular contact bearings for sustained precision and rigidity. Spindle runout is within 0.00125 mm (50 millionths of an inch.)
The manual was written by our U.S.-based Technical Documentation Department and is packed with useful information. The complete-and-easy to read manual provides full instructions on how to assemble and maintain your lathe.
All South Bend lathes come with a 2-year warranty which covers parts and assures the unit is free from factory defects.
The South Bend Customer Service and Technical Support Teams are U.S.-based. Parts and accessories for the lathe may be available online and shipped from the South Bend parts warehouse in Springfield, MO.
SPECIFICATIONS:
Spindle motor: 3 HP, 220V, 3-phase, 10A
Coolant motor: 1/8 HP
Feed inverter motor: 1/2 HP
Swing over bed: 11"
Distance between centers:18"
Swing over cross slide: 5.98"
Swing over saddle: 9.05"
Cross slide travel: 5.98
Compound travel: 3"
Carriage travel: 25"
Spindle nose: 5-C (10°)
Spindle bore: 1.25"
Spindle taper: 4°
Spindle speeds w/ 5-C: 50 - 4000 RPM
Spindle speed w/ 6" 3-Jaw Chuck: 50 - 3000 RPM
Tailstock taper: MT #2
Tailstock travel: 3.75"
Tailstock barrel diameter: 1.358"
Inch threads: 3.175-500 TPI
Metric threads: 0.55-6.55 mm
Number of longitudinal feeds: Variable
Longitudinal feed range: 0.3125"-7"/min
Number of cross feeds: Variable
Cross feed range: 0.1875"-4"/min
Footprint: 59" W x 25" D
Dimensions: 72-7/8" W x 29-1/2" D x 66-15/16" H
Approximate shipping weight: 2645 lbs.
FEATURES:
Spindle runout within 50 millionths of an inch
Infinitely variable spindle speed
3 HP motor with current vector inverter drive for increased low-end torque
Independent variable feeds for carriage and cross slide
Turcite®-B Slydway® bearing surface between carriage and bed
Mitutoyo linear scales on X and Z axis
Delta interface display monitor
Automatic threading stop and control
High-quality Japanese Yaskawa Inverter
Due to product size, this item must be delivered to a loading dock or unloaded with a forklift. Liftgate not available.
View More Details