Item# G0640X Model# G0640X
Grizzly G0640X - 17" 2 HP Metal/Wood Bandsaw w/Inverter Motor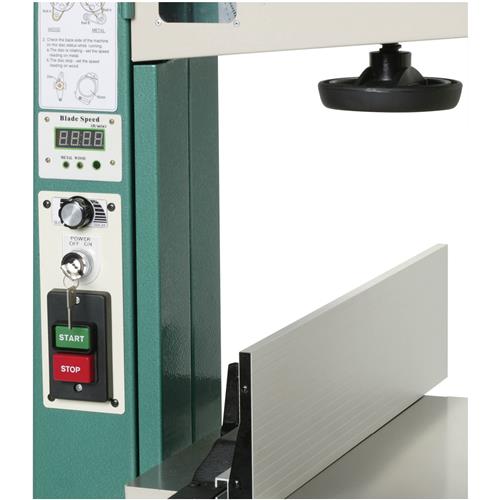 G0640X 17" 2 HP Metal/Wood Bandsaw w/Inverter Motor
Cut wood or metal with this 2 HP 17" variable-speed combination bandsaw.
We've taken all the best features from our vertical wood-cutting bandsaws and added a variable blade speed control with two speed ranges. This allows the G0640X bandsaw to operate between 100–3600 FPM and double as a metal-cutting bandsaw with the power and cutting capacity to tackle just about anything!
The G0640X features a Delta VFD-M inverter which gives you 3-phase, variable-speed power while operating on standard single-phase power source. The VFD saves you money by increasing the efficiency of the motor and decreasing electricity use. It reduces wear and tear on the motor which extends the life of the bandsaw.
The blade tracking and tensioning systems are easy to use. Blade tracking is primarily controlled by adjusting the upper wheel tilt. Engage the tension lever and turn the tension handwheel to adjust blade tensioning. Release the tension lever to relieve the tension on the tires when not in use.
The G0640X has a large 23-5/8" x 17-1/4" table that can tilt from 5° left to 45° right. A cast-iron fence with extruded-aluminum rail and resaw fence attachment mount to the table.
You will find many other features that have made Grizzly bandsaws so popular with our customers such as the rack & pinion upper guide adjustment, cast-iron trunnion and cast-iron wheels.
The Grizzly G0640X Metal/Wood Bandsaw is covered by a one-year warranty that covers replacement parts and guards against factory defects. The G0640X is supported by a US-based product support team and replacement parts are available on-line and ship from our massive Parts Department in Springfield Missouri.
Made in an ISO 9001 factory
SPECIFICATIONS:
Motor: 2 HP, 220V, 3-phase, 8A (runs on single-phase, 220V)
Max. cutting width left of blade: 16-1/4"
Max. cutting height (resaw capacity): 12"
Blade guides: Double ball bearing upper & lower
Table size: 23-5/8" x 17-1/4"
Table tilt: 5° left, 45° right
Floor-to-table height: 37-1/2"
Blade size: 131-1/2" (1/8" - 1" wide)
Blade speed: Variable, 100 - 3600 FPM
Overall dimensions: 32" W x 32" D x 73" H
Footprint: 17-3/4" x 27"
Approximate shipping weight: 416 lbs.
FEATURES:
Variable-speed control
Two speed ranges: fast for wood and slow for metal
Two 4" dust ports
Requires single-phase power
Precision-ground cast-iron table
Rack & pinion left-and-right table tilt control
Rack & pinion adjustment on upper blade guide support
Fully-balanced, cast-iron wheels with rubber tires
Quick-release blade tension
Includes rip fence, resaw fence and miter gauge
View More Details
Backordered - More on the way