Item# G0548ZP Model# G0548ZP
Grizzly G0548ZP - 2 HP Canister Dust Collector with Aluminum Impeller - Polar Bear Series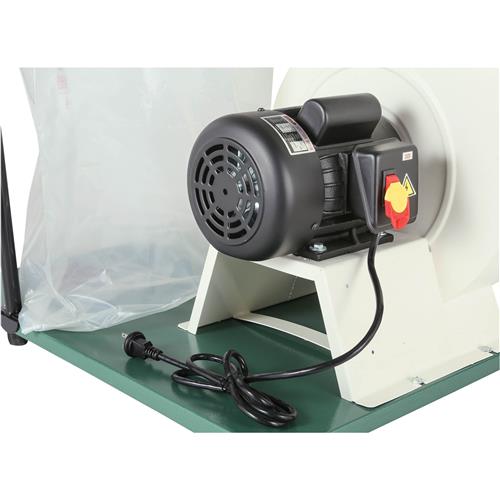 G0548ZP 2 HP Canister Dust Collector with Aluminum Impeller
Efficiently capture the wood dust from your projects.
With a filter rating of 1-micron, the canister filter on the G0548ZP 2 HP Dust Collector has 6 times the filtering area of regular bag filters and it has a built-in cleaning brush that is easy to operate from the outside.
Simply move the convenient top-mounted lever back and forth to remove any dust caked onto the filter, and in seconds you are back to full performance capacity.
The G0548ZP has an air suction capacity of 1700 CFM and has a max static pressure of 10 in. Static pressure is produced by the 12-3/4" cast-aluminum impeller to move the wood chips into the collector.
The steel duct from the impeller to the filter improves performance and reliability and with just a glance you'll know when it's time to haul out the chips thanks to the clear bottom bags.
This unit has a heavy-duty steel adapter that allows three 4" lines to be connected simultaneously.
Like all Grizzly dust collection systems, the G0548Z comes with a 1-year warranty which covers parts and assures the unit is free from factory defects. (Consumables are not covered by the warranty.)
The G0548Z manual was written by our U.S. based Technical Documentation Department and is packed with useful information The complete and easy-to-read manual makes it easier to assemble and maintain your dust collector.
The Grizzly Customer Service and Technical Support Teams are U.S. based. Parts and accessories for the dust collector are available online and shipped from the Grizzly parts warehouse in Springfield, MO.
CSA and UL certified
SPECIFICATIONS:
Motor: 2 HP, 240V, single-phase, 9A
Airflow performance: 1700 CFM
Maximum static pressure: 10"
Main inlet size: 6"
Inlet adapter: 3 x 4"
Filtration rating: 1 micron
Canister filter size: 19-5/8" dia. x 23-5/8" H
Bag capacity: 4-1/2 cubic feet
Lower bags: Plastic
Impeller: 12-3/4" aluminum, radial fin
Sound rating: 83–85 dB
Overall dimensions: 37-3/8" W x 31-1/2" D x 71"H
Approximate shipping weight: 150 lbs.
FEATURES:
1 Micron spun bond polyester canister filtration
12-3/4" Cast aluminum impeller
Steel base with casters for mobility
Clear plastic collection bag with quick clamp
Turn the top handle a half turn for cleaning the canister
Handle controls three cleaning flappers inside, shaking dust from the filter
Fine dust from filter falls directly into the collection bag
Canister filters have six times the filtering area of regular bags
Heavy-duty steel intake improves rigidity
Extra bottom bags included
Optional replacement bags: H5783-Upper Canister, T20543-Lower Bag
View More Details