Item# G0574 Model# G0574
Grizzly G0574 - Guitar Fretboard Radiusing Sander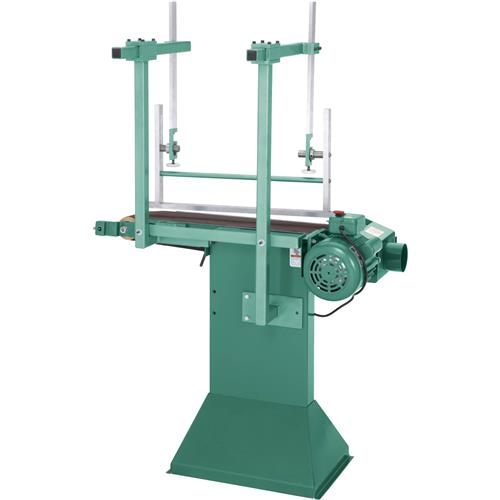 G0574 Guitar Fretboard Radiusing Sander
Speed up your production with this easy-to-use and accurate sander.
Almost all guitar fretboards have a radius on them. For example, steel-string guitars generally have a 12", 14" or 16" radius across the fretboard. Electric guitars range from 10" to a compound radius that starts with a 10" at the nut and ends with a 14" radius at the pickup end.
Designed in the USA by our friends at Merlin 5, the radius attachment that comes with the G0574 Guitar Fretboard Radiusing Sander was specifically made for shaping fretboards. It is the first commercially available, heavy-duty radius sander that is capable of sanding compound radii from 10" to 16" and everything in between.
With nearly 30" of sanding surface, this jig is capable of sanding bass necks/fretboards as well. The 28-1/2" x 1-1/2" aluminum base plate has plenty of room to mount a vacuum or clamping system, which can hold either your fretboard or a complete neck for radiusing.
The sanding belts are 6" wide by 80" long. For a full range of replacement belts for the G0574, shop here.
If you shape your own guitar necks or fretboards, the G0574 Radius Sander machine will ensure precision results.
Like all Grizzly sanders, the G0574 comes with a 1-year warranty which covers parts and assures the unit is free from factory defects. (Consumables are not covered by the warranty.)
The G0574 manual was written by our U.S. based Technical Documentation Department and is packed with useful information. The complete and easy to read manual makes it easier to assemble and maintain your sander.
The Grizzly Customer Service and Technical Support Teams are U.S. based. Parts for the sander may be available online and shipped from the Grizzly parts warehouse in Springfield, MO.
Made in an ISO 9001 factory
SPECIFICATIONS:
Motor: 1.5 HP, 110V/220V (prewired 220V), single-phase, 20A/10A
Belt speed: 1800 FPM
Belt size: 6" x 80"
Graphite-coated platen size: 6-3/4" x 29-3/4"
Overall dimensions: 42-1/2" W x 32" D x 74" H
Approximate shipping weight: 252 lbs.
FEATURES:
Quick belt release
Micro adjustment knob for sanding height
10" to 16" adjustable fretboard radius
Powder-coated finish
Mechanical ON/OFF switch
Shielded and lubricated bearings
4" dust port
View More Details