Item# G0764Z Model# G0764Z
Grizzly G0764Z - 14" 10 HP 3-Phase Sliding Table Saw with 124" Cutting Capacity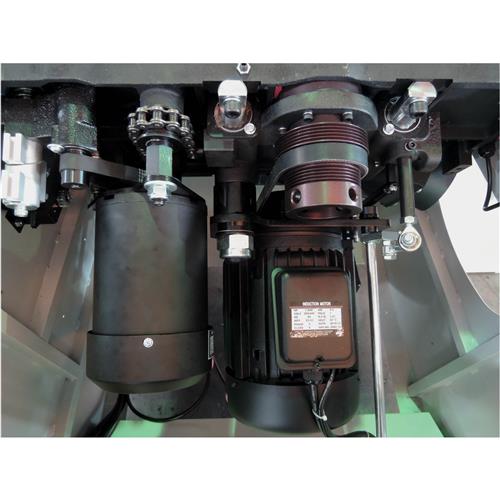 G0764Z 14" 10 HP 3-Phase Sliding Table Saw
The next level of Grizzly's industrial-sized sliding table saws.
The G0764Z 14" 10 HP 3-Phase Sliding Table Saw was engineered to handle the largest sheet goods with a sliding table over ten feet long and capable of rips over 50" wide.
Not only that–you can rip and crosscut the thickest material with a 4-1/8" maximum depth of cut at 90°.
The independently controlled scoring blade eliminates tear-out and two flip stops on the crosscutting fence maximize production efficiency.
The large overhead blade guard is fully adjustable and includes a 4" dust port that supplements the 5" cabinet-mounted dust port.
If you require a large sliding table saw, take a good look at this one!
The G0699 comes with a 1-year warranty covering parts and assuring the unit is free from factory defects.
The G0699 manual was written by our U.S. based Technical Documentation Department and is packed with useful information. The complete and easy-to-read manual makes it easier to assemble and maintain your saw.
The Grizzly Customer Service and Technical Support Teams are U.S. based. Parts for the sliding saw may be available online and shipped from the Grizzly parts warehouse in Springfield, MO.
Made in an ISO 9001 factory
SPECIFICATIONS:
Main motor: 10 HP, 220V/440V* (prewired for 220V), 3-phase, 26A/13A
Scoring motor: 1 HP
Rip capacity: 51-1/4"
Crosscut capacity: 124"
Blade tilt: 0–45°
Max. depth of cut @ 90°: 4-1/8"
Max. depth of cut @ 45°: 2-7/8"
Main table size with extensions: 35-1/4" x 59-1/8"
Sliding table size: 14" x 126"
Floor-to-table height: 34-1/2"
Main blade size: 14"
Main blade arbor: 1"
Main blade speed: 3000, 4000, 5000 RPM
Scoring blade size: 4-3/4"
Scoring blade speed: 8000 RPM
Number of dust ports: 2
Dust port sizes: 4", 5"
Footprint: 74-1/2" L x 35-1/2" W
Overall size: 133" W x 202" D x 65" H
Approximate shipping weight: 1643 lbs.
FEATURES:
Micro-adjustable rip fence
Independently-powered scoring blade ensures tear-out free cutting
Sliding table on steel ball guide system with heat-treated steel ways
Alloy crosscut fence for miter cutting 45° right and left
Miter fence has two flip stops for repetitive cutting
Safety limit switch for blade cover
Adjustable riving knife
*This machine is prewired for 220V. We can rewire to 440V in a few days' time for a fee of $250. Please contact Grizzly Technical Support at (570) 546-9663 before placing your order.
Due to product size, this item must be delivered to a loading dock or unloaded with a forklift. Liftgate not available.
View More Details