Item# SB1111 Model# SB1111
South Bend SB1111 - 10" 3HP 220V Table Saw With Extension Rails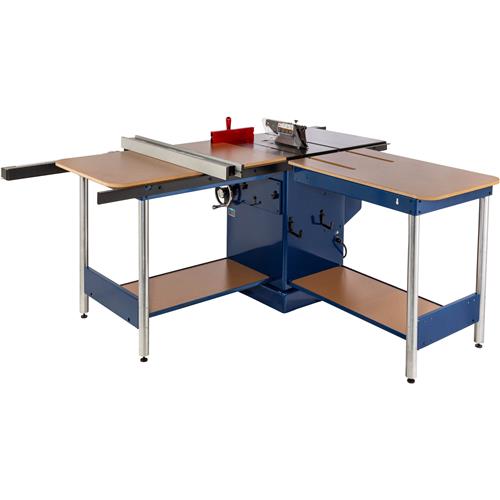 Motor size: 3 HP
Tablesaw type: Cabinet
Blade size: 10"
Maximum cutting height @ 90deg: 3-1/8"
Maximum cutting height @ 45deg: 2-1/8"
Maximum ripping capacity - right: 52"
Table type: Precision-Ground Cast Iron
Overall table size: 76" x 27"
Shipping weight: 792 lbs.
Hover to View Details
More on the way and expected to arrive on 5/30/2021
Overview
SB1111 10" 3HP 220V Table Saw with Extension Rails
A high-quality table saw is the most important investment you'll make as a woodworker.
The high-precision South Bend SB11101 10" 3 HP Table Saw with Extension Rails is solidly built with a higher degree of accuracy, high-end components, and longer-lasting reliability than any other table saw on the market.
The rip capacity of the SB1111 with the extension rails is 52" to the right and 18" left of the blade.
A digital readout on the fence for width of cut, and two digital readouts on the control panel for blade height and tilt allow you to set up your cuts with absolute precision every time.
The 1-1/2" thick, precision-ground cast-iron table mounted on the heavy-duty, one-piece steel cabinet to minimize vibration during operation.
Additional features, such as a locking ON/OFF switch for safety, large cast-iron handwheels for easy adjustments, and large anodized handles on the miter gauge and rip fence add a professional touch.
Achieve professional results with this superb South Bend table saw.
The SB1111 is covered by a South Bend 2-year warranty covering parts and factory defects.
The SB1111 manual was written by our U.S. based Technical Documentation Department and is packed with useful information. The complete and easy-to-read manual provides full instructions on how to assemble and maintain your saw.
The South Bend Customer Service and Technical Support Teams are U.S. based. Parts are available online and shipped from the South Bend parts warehouse in Springfield, MO.
Made in an ISO 9001 factory
CSA certified
SPECIFICATIONS:
Motor: 3 HP, 220V, single-phase, 13A
Rip capacity: 52" right, 18" left of blade
Max. depth of cut @ 90°: 3-1/8"
Max. depth of cut @ 45°: 2-1/8"
Distance from front of table to center of blade: 14-7/8"
Floor-to-table height: 35-3/4"
Arbor diameter: 5/8"
Arbor speed: 4000 RPM
Max. width of dado: 3/4"
Dust port size: 4"
Table size with extensions: 76" W x 65?-5/8" D
Footprint: 22" x 24"
Overall dimensions: 91-1/2" W x 73" D x 43-1/2" H
Approximate shipping weight: 742 lbs.
FEATURES:
Digital readouts for blade height, blade angle and distance of fence to left or right side of blade
Precision-ground cast-iron table with beveled edge
Quick-release blade guard and spreader
Locking power ON/OFF switch with key
One-piece steel cabinet
Angled dust chute in cabinet and built-in dust port for efficient dust collection and cleaning
Large cast-iron handwheels
Anodized handles on miter gauge and rip fence
Two 3/4" miter slots in table
US based customer service and technical support