Item# G0808 Model# G0808
Grizzly G0808 - 20-3/4" Gearhead Drill Press With Cross-Slide Table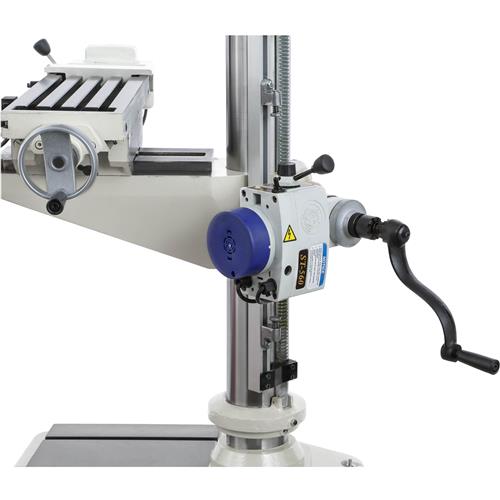 This innovative drill press came about as a personal project of the President of Grizzly Industrial. He wanted the convenience of a gearhead drill press with variable-speed, combined with a cross-slide table with longitudinal and vertical power feed. He also sought features like a digital spindle speed readout, long spindle throw, coarse and fine downfeed controls, and forward/reversing ability.
This had not been done before, so several meetings were held with engineers, special parts were made, and voila! We had a variable-speed gearhead drill press with X- and Z-axis table powerfeed, utilizing a 3-phase motor that runs on single-phase power!
This drill press started as a personal project for the President's home workshop, but after appreciating its unique features more and more, he made it available to the public for those also in search of a truly high-end, fully-loaded drill press.
Made in an ISO 9001 factory
SPECIFICATIONS:
Main motor: 1-1/2 HP, 220V, 3-phase, 5.5A
Required power source: 220V, single-phase, min. 15A circuit
Swing: 20-3/4"
Spindle taper: R-8
Spindle travel: 4-7/8"
Spindle speed: variable, 0 - 2500 RPM
Drilling capacity: 1-9/16" mild steel
Head tilt: 30° left, 90° right
Head swivel: 360°
Max. distance from spindle to column: 10-7/16"
Max. distance from spindle to table: 17-1/2"
Max. distance from spindle to base: 42"
Table dimensions: 7-1/2" x 23-1/2"
Quill diameter: 2-15/16"
Drawbar thread size: 7-16"-20
Drawbar length: 16-5/16"
Table swivel around column: 360°
Longitudinal table travel (X-axis): 15"
Cross table travel (Y-axis): 7"
Vertical table travel (Z-axis): 17-3/4"
T-slots size: 1/2" (4 on table, 2 on base)
Table T-slot centers: 1-1/2"
Base T-slot centers: 8-7/8"
Footprint: 18-1/2" x 26"
Overall dimensions: 42" W x 46-1/2" D x 77-1/2" H
Approx. shipping weight: 739 lbs.
FEATURES:
Variable-frequency drive for 3-phase speed control with single-phase power
Precision-ground cast-iron cross-slide table with X- and Z-axis power feed
Coarse and fine downfeed controls
Forward/reverse spindle switch
Digital spindle speed display
Cast-iron base with two 1/2" T-slots, 8-7/8" on center
Gear head with 2.64 qt. oil capacity
Includes a 13/23mm socket wrench and 3, 4, & 5mm hex wrenches
View More Details