Item# G0808 Model# G0808
Grizzly G0808 - 20-3/4" Gearhead Drill Press With Cross-Slide Table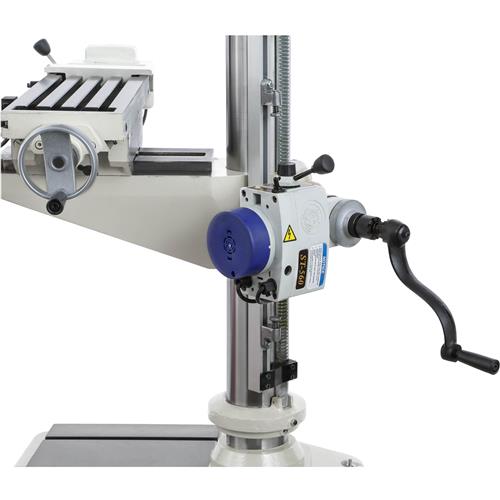 G0808 20-3/4" Gearhead Drill Press with Cross-Slide Table
When you want a money's-no-object drill press for your shop.
The innovative G0808 20-3/4" Gearhead Drill Press with Cross-Slide Table came about as a personal project of the CEO of Grizzly Industrial.
He wanted the convenience of a gearhead drill press with variable-speed, combined with a cross-slide table with longitudinal and vertical power feed.
He also sought features like a digital spindle speed readout, long spindle throw, coarse and fine downfeed controls, and forward/reversing ability.
This had not been done before, so several meetings were held with engineers, special parts were made, and voila! A variable-speed gearhead drill press with X- and Z-axis table powerfeed, was created!
Like all Grizzly drill presses, the G0808 comes with a 1-year warranty which covers parts and assures the unit is free from factory defects. (Consumables are not covered by the warranty.)
The G0808 manual was written by our U.S. based Technical Documentation Department and is packed with useful information. The complete and easy-to-read manual makes it easier to assemble and maintain your drill press.
The Grizzly Customer Service and Technical Support Teams are U.S. based. Parts and accessories for the drill press are available online and shipped from the Grizzly parts warehouse in Springfield, MO.
Made in an ISO 9001 factory
SPECIFICATIONS:
Main motor: 1-1/2 HP, 220V, 3-phase, 5.5A
Required power source: 220V, single-phase, min. 15A circuit
Swing: 20-3/4"
Spindle taper: R-8
Spindle travel: 4-7/8"
Spindle speed: variable, 0 - 2500 RPM
Drilling capacity: 1-9/16" mild steel
Head tilt: 30° left, 90° right
Max. distance from spindle to column: 10-7/16"
Max. distance from spindle to table: 17-1/2"
Table dimensions: 7-1/2" x 23-1/2"
Quill diameter: 2-15/16"
Drawbar thread size: 7-16"
Drawbar length: 16-5/16"
Longitudinal table travel (X-axis): 15"
Cross table travel (Y-axis): 7"
Vertical table travel (Z-axis): 17-3/4"
T-slots size: 1/2" (4 on table, 2 on base)
Footprint: 18-1/2" x 26"
Overall dimensions: 42" W x 46-1/2" D x 77-1/2" H
Approx. shipping weight: 739 lbs.
FEATURES:
Variable-frequency drive for 3-phase speed control with single-phase power
Longitudinal power feed on precision-ground cast-iron table
Power feed or hand crank-enabled rack-and-pinion table elevation
Coarse and fine downfeed controls
Cast-iron base with two 1/2" T-slots, 8-7/8" on center
360° table and head positioning around column
Digital spindle speed display
Front-mounted e-stop button
Forward/reverse spindle switch
View More Details
More on the way and expected to arrive on 1/10/2022