Item# G0751 Model# G0751
Grizzly G0751 - 22" Heavy Duty Drill Press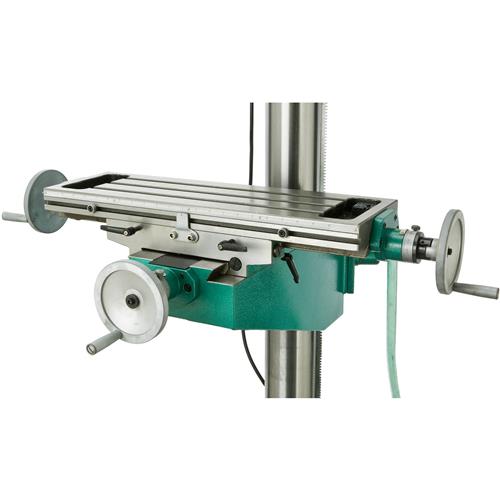 Finally, there is a heavy duty drill press tough enough to withstand the rigors of daily, industrial use, yet still is versatile enough to tackle serious drilling, tapping, and even milling jobs with precision and ease! The G0751 features an X/Y-axis table on precision dovetail ways, multi-function digital spindle scale, high-precision P5 spindle bearings, 4-speed automatic quill feed, convenient gear-head spindle speed controls, adjustable halogen worklight, and built in coolant system. The head tilts 45° left or right, and both the head and table are mounted on separate rack-and-pinions, allowing them to rotate 360° and move up/down independently from each other - and providing plenty of "positioning freedom" when machining otherwise difficult to reach places. Additionally, the base is precision ground and equipped with 7/16" T-slots - just like the table - providing an extra work-holding surface.
Made in an ISO 9001 Factory
Specifications:
Motor: 2 HP, 220V, single phase, 1725 RPM, 8.8A
Swing: 22"
Max. distance spindle-to-table: 24-3/8"
Max. distance spindle-to-column: 11"
Table size: 7-1/2" x 23-5/8"
Table travel (longitudinal): 14-1/2"
Table travel (cross): 7-1/2"
Head travel: 10-1/2"
Table swivel: 360°
Spindle travel: 4-3/4"
Spindle speeds: (6) 90, 210, 345, 670, 1180, 1970 RPM
Spindle taper: R-8
Drawbar size: 7/16"-20
Drilling capacity for cast iron: 1-1/2"
Drilling capacity for steel: 1-1/4"
Face mill capacity: 3"
End mill capacity: 1-1/4"
Head tilt left and right: 45° L, 45° R
Quill feed rates: 0.004, 0.007, 0.010 in/rev
Table T-slots: 3 at 2" centers, 7/16" wide
Overall dimensions: 29-1/2"W x 69-1/4"H x 36-1/2"D
Footprint: 19"W x 27"D
Approximate shipping weight: 849 lbs.
Features:
High precision P5 tapered roller spindle bearings
Tapping capability with auto retract
Coolant system
Halogen worklight
Power downfeed
45° right and left head tilt
Head and table vertical travel
Independent vertical head and table travel
Made in an ISO 9001 factory
Includes:

Handwheel handles w/screws
Bottle for oil
Toolbox
Open-end wrenches 17/19, 22/24mm
Drift key
Drill chuck B16, 1–13mm w/chuck key
T-Bolts M8-1.25 x 55 w/washers & nuts
Hex wrench set (3, 4, 5, 10mm)
Spindle sleeve R-8–MT#3
Drill chuck arbor R-8–B16
Spindle sleeve MT#3–MT#2
View More Details