Item# G5913Z Model# G5913Z
Grizzly G5913Z - 5 HP Professional Tilting Spindle Shaper - Z Series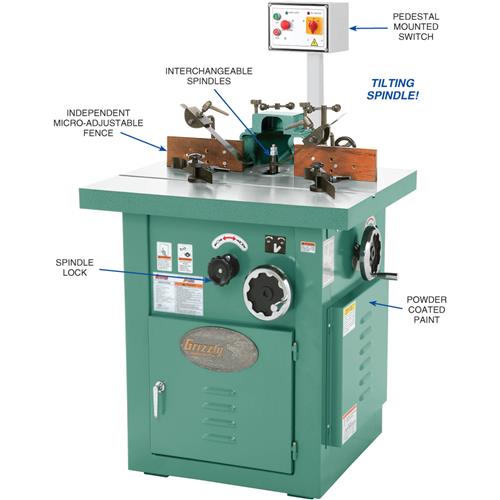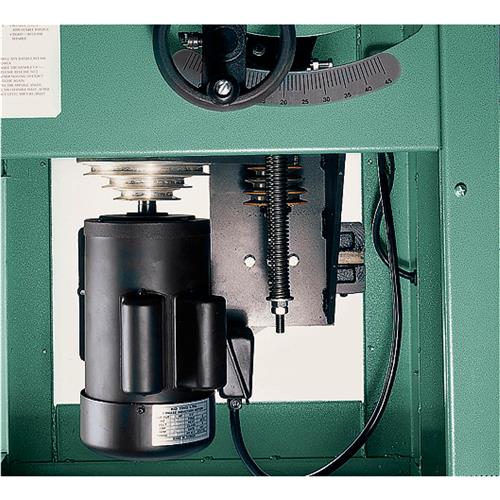 G5913Z 5 HP Professional Tilting Spindle Shaper
If you need moulding profiles in hardwoods that you can't find at your local millwork supplier, we think you'll find our new 5 HP Tilting Spindle Shaper worthy of your consideration. Built to withstand the rigors of industrial production, this impressive shaper will literally cut more profiles than you can shake a stick at. The unique tilting spindle will add even more variety and utility to your shaping operations and the conveniently located controls and adjustments make it a safe and easy machine to use and enjoy.
Specifications:
Motor: 5 HP, 220V, single-phase
Cast iron table and fence assembly
Table size: 28" x 35-1/2"
Table counterbore: 7" x 5/8" deep
Spindle travel: 3-1/4"
Spindle tilt: 45°
Spindle sizes: 3/4", 1" and 1-1/4"
Spindle speeds: 3600, 5100, 8000, 10,000 RPM
Spindle capacity under nut: 5-1/8" (1-1/4" spindle)
Maximum cutter diameter: 5-7/8"
Welded steel cabinet
Tilting spindle allows for infinite profile possibilities with your existing shaper cutters
Independent, micro adjustment fence
Forward/reversing switch
4" dust port
Sturdy hold-downs and cast-iron miter gauge included
Overall dimensions: 35-1/2" wide x 43" high x 39" deep (to top of switch)
Approximate shipping weight: 692 lbs.
View More Details