Item# SB1080 Model# SB1080
South Bend SB1080 - 16" 3 HP Heavy-Duty Resaw Bandsaw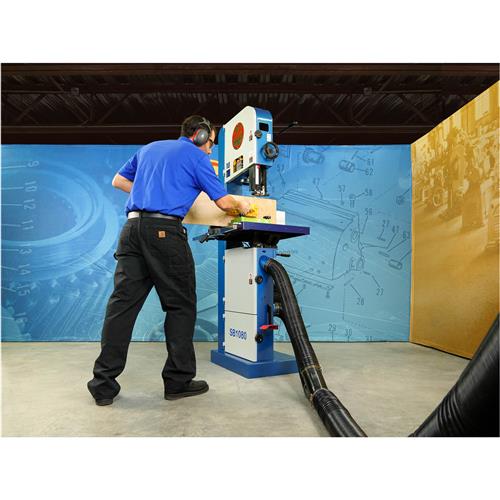 Buy now! While supplies last!
Motor: 3 HP
Max cutting width: 15-3/4 in.
Max cutting height: 14 in.
Table size: 20-7/8 in. x 25-5/8 in.
Wheel type: Computer-Balanced Cast Iron
Blade size: 131-1/2 in.
Quick blade change: Yes
Overall height: 79-1/2 in.
Shipping weight: 558 lbs.
Hover to View Details
Overview
SB1080 South Bend 16" 3 HP Heavy-Duty Bandsaw
Ultimate power for the industrial woodworking shop.
The South Bend SB1080 16" 3 HP resaw bandsaw accurately powers through hardwoods up to 14" thick with rack-and-pinion dual ball bearing guides and a precision-ground cast-iron fence with a dual-position 6" tall resaw attachment.
This could be the sturdiest machine in your shop. Its stout steel frame, computer-balanced cast-iron wheels, and extra-large 25-5/8" x 20-7/8" x 2" thick precision-ground cast-iron table and cast-iron trunnions all work together to minimize vibration and lead to greater accuracy and higher-quality work.
The table tilting mechanism is the strongest in the industry, allowing you to put the heaviest loads on the table without losing squareness.
If absolute best results are the only option, this is the bandsaw for you.
Other high-end features such as dual dust ports, quick-release blade tension, and built-in storage, to name a few, are what take the SB1080 from a great saw to an outstanding piece of machinery.
The SB1080 bandsaw is built to true South Bend high-precision industrial standards and comes with a 2-year warranty.
The SB1080 manual was written by our U.S. based Technical Documentation Department and is packed with useful information.
The South Bend Customer Service and Technical Support Teams are U.S. based. Parts are available online and shipped from the South Bend parts warehouse in Springfield, MO.
SPECIFICATIONS:
Motor: 3 HP, 230V, single-phase, 12A
Max. cutting width left of blade: 15-3/4"
Max. cutting height (resaw capacity): 14"
Table size: 20-7/8" x 25-5/8"
Table tilt: 5° left, 45° right
Floor-to-table height: 41"
Blade guides: Ball-bearing, upper & lower with thrust bearings
Blade size: 131-1/2" (1/8"–1" wide)
Blade speed: 3500 FPM
Dimensions: 33" W x 36" D x 79-1/2" H
Footprint: 18" x 27"
Approximate shipping weight: 558 lbs.
FEATURES:
Precision-ground cast-iron table with cast-iron trunnion
Cast-iron fence with two-position extruded aluminum resaw fence
Computer-balanced cast-iron wheels
Built-in blade and tool storage
Foot-operated brake system
Quick-change blade release/tensioner
US based customer service and technical support