Item# G0823 Model# G0823
Grizzly G0823 - 15" Drill Press with Auto Downfeed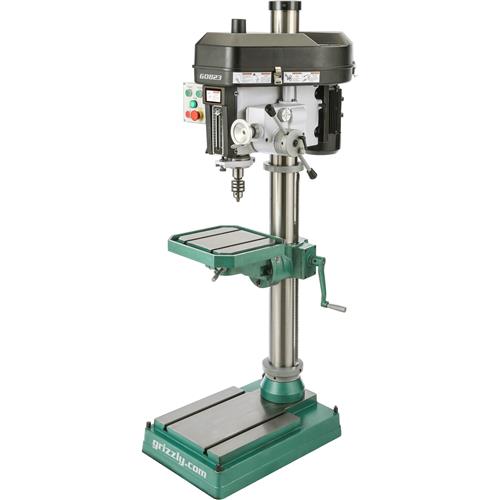 G0823 15" Drill Press with Auto Downfeed
A drill press that provides the precision and power your shop needs to tackle the most demanding jobs.
The G0823 15" Drill Press features the luxury of auto downfeed for repeatable drilling operations.
Outfitted with a 2 HP motor, the spindle is equipped with an R-8 spindle taper and 12 speeds ranging from 140-2436 RPM (adjustable via V-belts).
The table has rack-and-pinion mounts to allow for 360° of rotation, 60° tilt, 23-1/2" of vertical travel, and two 1/2" T-slots to allow for exact positioning of your workpiece.
The head comes equipped with the same rack-and-pinion elevation controls as the table–adjustable 7-13/16" vertically, and capable of 360° rotation around the column.
The precision-ground work surface on the base contains two more 1/2" T-slots, ensuring that every surface can be put to use.
Like all Grizzly drill presses, the G0823 comes with a 1-year warranty which covers parts and assures the unit is free from factory defects. (Consumables are not covered by the warranty.)
The G0823 manual was written by our U.S. based Technical Documentation Department and is packed with useful information. The complete and easy-to-read manual makes it easier to assemble and maintain your drill press.
The Grizzly Customer Service and Technical Support Teams are U.S. based. Parts and accessories for the drill press are available online and shipped from the Grizzly parts warehouse in Springfield, MO.
Made in an ISO 9001 factory
SPECIFICATIONS:
Motor: 2 HP, 220V, single-phase, 8.6A
Swing: 15"
Spindle taper: R-8
Spindle travel: 5-1/8"
Number of spindle speeds: 12
Spindle speed range: 140-2436 RPM
Max distance spindle-to-table: 28-1/4"
Drill chuck: 1/64"-1/2"
Drilling capacity: 1-1/8" mild steel
Table size: 14" W x 15" L
Table swing: 360°
Table tilt: 60° left and right
Table T-slots: 1/2" (2)
Vertical table travel: 23-1/2"
Column diameter: 4-1/2"
Footprint: 26" L x 18" W
Overall dimensions: 23" W x 35-1/2"D x 67" H
Approximate shipping weight: 772 lb.
FEATURES:
Auto-downfeed
Solid cast-iron construction
Precision-ground cast-iron table
Fine downfeed control with 0.01" increments and zero set
360° Table positioning around column
360° Head positioning around column
Base has precision-ground, cast-iron work surface with two 1/2" T-slots
Forward/reverse switch
View More Details
Backordered - More on the way