Item# G0866 Model# G0866
Grizzly G0866 - 37" 15 HP Wide-Belt Sander with Industrial Roller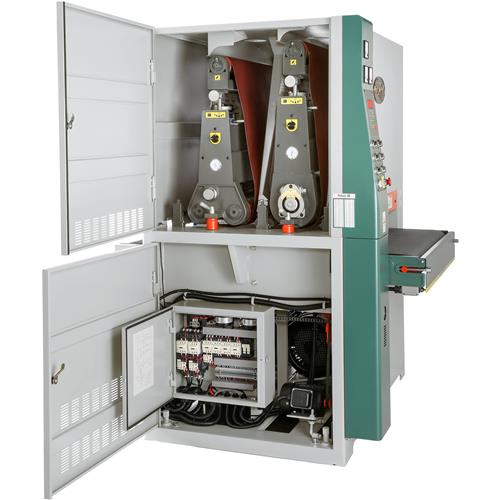 When your shop production schedule is on the line, trust the company that has been providing industrial-grade wide-belt sanders for decades and always continues to innovate. This double-head beast has independent dual 15 HP sanding motors to provide the utmost in sanding power and versatility. Oversized industrial sanding drums provide added sanding belt grip and workpiece contact area. Easily adjust the motorized table elevation with the push of a button. An integrated digital display provides accuracy down to 0.005", and an independent 2hp feed belt motor provides variable-speeds from 7-68 FPM to handle hardwoods and softwoods alike. Sanding belt changes are a breeze, and Grizzly offers a full lineup of sanding belt options to fit your needs.
Made in an ISO 9001 Factory
Features

Large-diameter industrial sanding drums
Digital height readout and control panel
Independent motor control
Disc brake for emergency stop
Micro-adjustable graphite/felt platen
Variable feed speed
Pneumatic belt tracking and tensioning
Amp/load meter
Six 5" dust ports
Built in air filter/lubricator
Made in an ISO 9001 Factory!
Specifications

Sanding belt motors: Dual 15 HP, 220V/440V*, 3-phase, 36./18.4A
Feed belt motor: 2 HP, 6A/3A
Table elevation motor: 1/4 HP, 1.2A/0.6A
Pressure roller type: Rubber coated steel
Infeed drums: Spiral-grooved rubber, 8.7" and 5" Dia.
Outfeed drum: Steel. 5" Dia.
Platen: Micro-adjustable, graphite/felt
Sanding belt size: 37" x 75"
Maximum board dimensions: 36 ½" W x 6" H
Minimum board thickness: 3/16"
Minimum board length: 12"
Conveyor speeds: Variable, 7-68 FPM
Front drum surface speed: 3600 FPM
Rear drum surface speed: 2800 FPM
Air requirement: 57 – 70 PSI, 7 CFM
Approx. shipping weight: 4000 lbs.
View More Details