Item# G0667X Model# G0667X
Grizzly G0667X - 9" x 48" 3 HP High Precision Variable-Speed Vertical Mill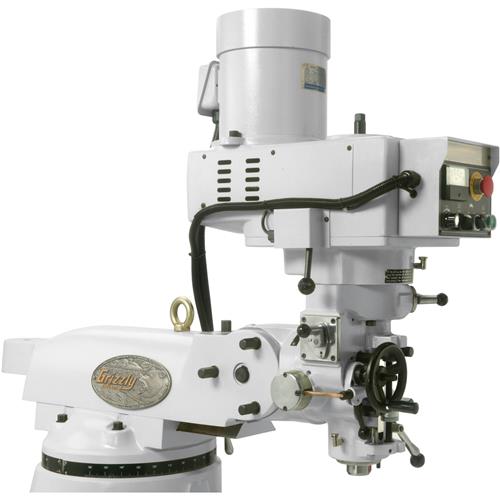 You Save:
$

2,000

.

00

(15%)
Buy now! While supplies last!
G0667X 9" x 48" 3 HP High Precision Variable-Speed Vertical Mill
A high performance and precision-controlled Grizzly mill.
The G0667X 9" x 48" 3 HP High Precision Variable-Speed Vertical Mill is used to remove material from metal workpieces to form complex shapes.
Attention to detail is evident by the use of Meehanite castings, high-class spindle bearings, hardened and ground leadscrews with double-bronze nuts, and a chromed quill with precision-honed housing,
Now add an electronic variable-speed spindle motor and you've got yourself one serious milling machine.
There are coarse and fine manual controls for quill movement, and an auto-downfeed mechanism with adjustable speeds.
A power feed provides precision powered longitudinal table movement with adjustable limit stops for preset range of motion.
The coolant reservoir in the base of the column houses a pump that recycles the fluid back up to the workpiece, reducing friction and washing away the resulting swarf from the operation.
Like all Grizzly Mills, the G0667X comes with a 1-year warranty covering parts and assuring the unit is free from factory defects.
The G0667X manual was written by our U.S. based Technical Documentation Department and is packed with useful information. The complete and easy-to-read manual makes it easier to assemble and maintain your mill drill.
The Grizzly Customer Service and Technical Support Teams are U.S. based. Parts and accessories for the drill press are available online and shipped from the Grizzly parts warehouse in Springfield, MO.
SPECIFICATIONS:
Required power supply: 220V, single-phase, 15A
Motor: 3 HP, 220V, 3-phase, 8.5A
Spindle travel: 5"
Spindle taper: R-8
Spindle speeds: Variable, 60–5000 RPM
Quill diameter: 3.375"
Quill feed rate: 0.0015", 0.003", 0.006"
Spindle nose to table: 0"–18"
Longitudinal travel: 29"
Cross travel: 12"
Vertical (Knee) travel: 16"
Table size: 9" x 48"
T-slots: 3 on 2-1/2" centers, 5/8" wide
Ram travel: 13"
Ram swivel: 360°
Head swivel: (L/R) 90°, (F/R) 45°
Overall dimensions: 57" W x 71" D x 87-1/2" H
Approximate shipping weight: 2352 lbs.

FEATURES:

Built-in single-phase to 3-phase 5 HP power inverter
One-shot pump table lubrication
Power downfeed
Downfeed auto stop with micro-adjustable stop
Longitudinal power feed with 550 in/lbs. of torque
Spindle and headstock components dynamically balanced for reduced vibration
High-precision spindle with P4 class angular contact ball bearings
Built-in coolant tank in base casting
Heavy-duty spindle brake
Double-bronze nut on X- and Y-axis leadscrews
Chromed quill and honed housing
View More Details