Item# G0815 Model# G0815
Grizzly G0815 - 15" 3 HP Heavy-Duty Planer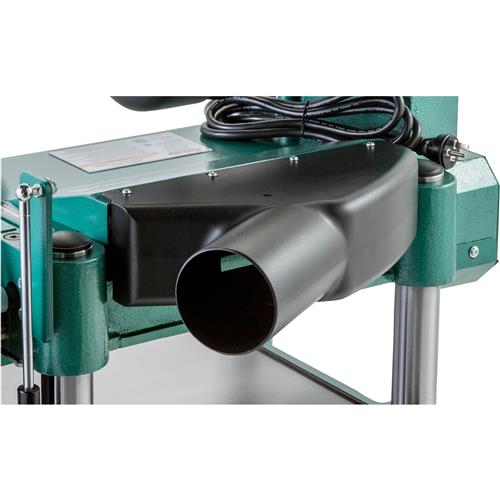 Exclusive from Grizzly is our G0815 15" Heavy-Duty Planer featuring a powerful 3 HP motor and 5000 RPM cutterhead speed. The headstock sits atop a four-column support with easy handwheel height adjustment and column locks. The G0815 offers two feed-rate settings, letting you choose between 16 and 30 FPM to ensure the smooth finish you need on practically any type of wood. This great 15" Heavy-Duty Planer can improve the functionality of your shop without sacrificing precious floor space, while still having the power you need to tackle large projects or do production work. One big advantage of this planer over other heavy-duty models is the fixed-height table design, which allows for a permanent infeed/outfeed roller table setup to boost production and overall convenience.
Certified to CSA & UL standards
SPECIFICATIONS:
Motor: 3 HP, 240V, single-phase, 14A
Maximum stock width: 15"
Maximum stock thickness: 6-3/8"
Minimum stock thickness: 1/4"
Minimum stock length: 6-3/8"
Maximum cutting depth: 3/16"
Cutterhead diameter: 3"
Cutterhead type: 3-knife
Knife size & type 15" x 1" x 1/8", HSS
Cutterhead speed: 5000 RPM
Feed rate: 16 & 30 FPM
Table size: 15" x 20-1/8"
Dust port size: 4"
Footprint: 20" x 20-1/2"
Footprint with optional stand: 26" x 26"
Overall dimensions: 32" W x 28" D x 23-1/2" H
Approx. shipping weight: 382 lbs.
FEATURES:
Magnetic switch with thermal overload protection
Twin gas struts for headstock lifting assist
Headstock locks prevent movement while planing
Anti-kickback fingers
Precision-ground cast-iron table
Retractable lifting handles
Rubber outfeed roller
Drive gears run in oil bath
View More Details