Item# W1754H Model# W1754H
Shop Fox W1754H - 20" Planer with Built in Mobile Base and Helical Cutterhead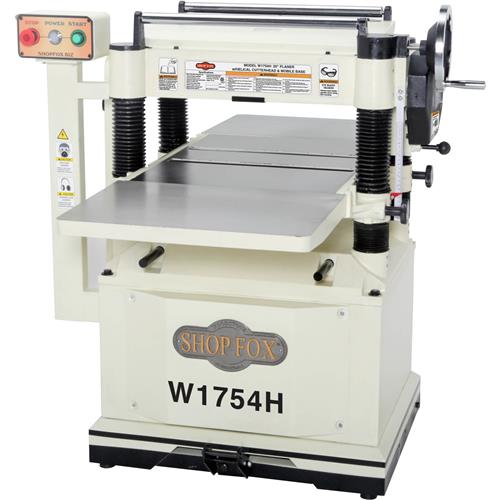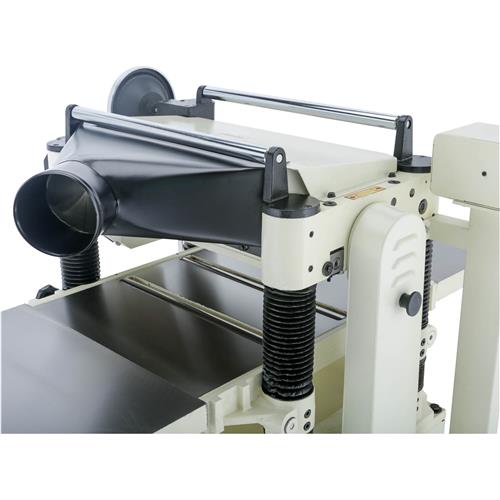 Motor: 5 HP
Max cutting width: 20 in.
Max cutting height: 8 in.
Cutter Head Type: Helical
Cutter Head Diameter: 3 in.
Min Stock Length: 8 in.
Feed Rate(s): 16, 20 FPM
Table size: 25-3/4 in. x 20 in.
Shipping weight: 924 lbs.
Hover to View Details
Backordered - More on the way
Overview
W1754H 20" Planer with Built in Mobile Base and Helical Cutterhead
Save time and effort by quickly flattening and smoothing rough lumber.
A planer can help enhance the quality of woodworking projects by producing smooth, even surfaces, making pieces easier to work with, and giving them a professional finish.
The 20", 5-row helical cutterhead comes complete with 100 indexable carbide inserts that can each be rotated three times to expose new, sharp cutting edges.
The inserts sit at a slight angle to the for smooth shearing cuts, minimized tearout, a smoother finish, and operating at lower noise levels.
A 240-volt, 5 horsepower motor powers through cuts up to 1/8" deep at a full width or 6" wide!
The 2-speed gearbox allows you to choose between 16 and 20 FPM for a smooth finish or a higher production feed rate.
With its built-in locking mobile base and pedestal-mounted switch, the W1754H is easy to move and operate.
Additional features include a 55-5/8" long precision-ground cast-iron table with the cast-iron extension wings, return rollers, adjustable bed rollers, and a magnetic switch with thermal overload protection.
Like all Shop Fox planers, the W1754H comes with a 2-year warranty which covers parts and assures the unit is free from factory defects. (Consumables are not covered by the warranty.)
The W1754H manual was written by our U.S.-based Woodstock Technical Documentation Department and is packed with useful information. The complete and easy-to-read manual makes it easier to assemble and maintain your sander.
The Customer Service and Technical Support Teams are also U.S.-based. Parts for the planer may be available online and shipped from the parts warehouse in Springfield, MO.
CSA certified
SPECIFICATIONS:
Motor: 5 HP, 240V, single-phase, 19A
Maximum cutting width: 20"
Maximum cutting height: 8"
Minimum stock thickness: 3/16"
Minimum stock length: 8"
Maximum cutting depth: 1/8"
Cutterhead type: 5-row helical, 100 inserts
Cutterhead speed: 4800 RPM
Feed rate: 16, 20 FPM
Table size: 20" W x 55-1/2" L
Overall dimensions: 43-1/2" W x 55-1/2" D x 45-7/8" H
Approximate shipping weight: 924 lbs.
FEATURES:
Helical cutterhead
Built-in mobile base
Inch and metric measurement scale
Chip breaker and pressure bar
0.059" Table movement distance per handwheel revolution
Precision-ground cast-iron wings
Top-mounted board return rollers
Four column support with table locks
Two-speed automatic board feed
Pedestal mounted magnetic safety switch with thermal protection
Two adjustable bed rollers