Item# W1754H Model# W1754H
Shop Fox W1754H - 20" Planer with Built in Mobile Base and Helical Cutterhead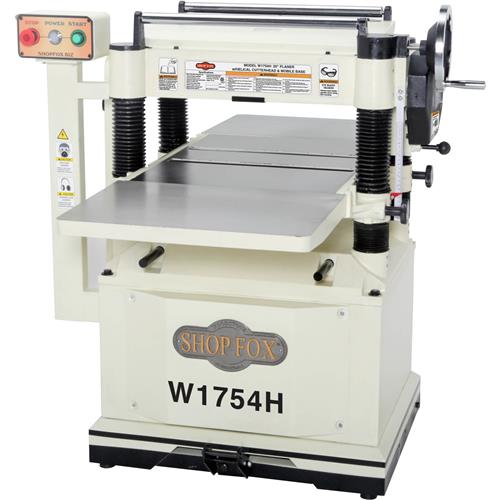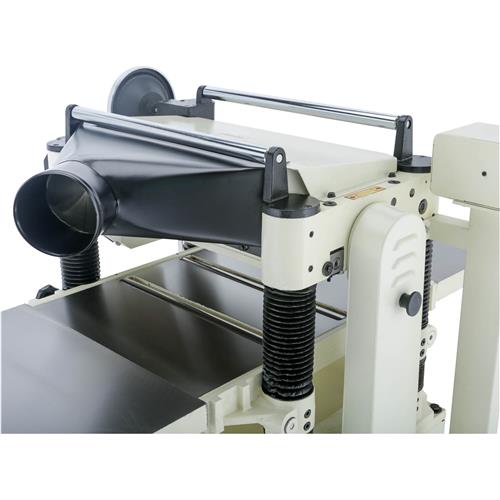 Motor: 5 HP
Max cutting width: 20 in.
Max cutting height: 8 in.
Cutter Head Type: Helical
Cutter Head Diameter: 3 in.
Min Stock Length: 8 in.
Feed Rate(s): 16, 20 FPM
Table size: 25-3/4 in. x 20 in.
Shipping weight: 924 lbs.
Hover to View Details
Backordered - More on the way
Overview
With its built-in locking mobile base and pedestal-mounted switch, our Model W1754H helical cutterhead planer is easy to move and operate. Just press down on the lock lever with your foot and this planer is mobile. Standard features include a 55-5/8" long precision-ground cast-iron table with the cast-iron extension wings, two feed speeds, return rollers, a 20" x 8" capacity, adjustable bed rollers, magnetic switch with thermal overload protection, and a 5 HP motor. Certified to CSA and UL standards.
Features:

Four column support with table locks
Pedestal mounted magnetic safety switch w/ thermal protection
Built-in mobile base
Precision-ground cast-iron extension wings
Specifications:

Motor: 5 HP, 240V, single-phase, 19A
Maximum cutting width: 20"
Maximum cutting height: 8"
Minimum stock thickness: 3/16"
Minimum stock length: 8"
Maximum cutting depth: 1/8"
Feed rate: 16 FPM & 20 FPM
Cutterhead type: Spiral with German-made indexable carbide inserts
Cutterhead diameter: 3-1/8"
Cutterhead speed: 5000 RPM
Table size including wings: 55-1/2" L x 21-1/2" W x 1-3/4" T
Overall dimensions: 55-1/2" L x 43-1/2" W x 45-7/8" H