Item# W1742H Model# W1742H
Shop Fox W1742H - 15" Planer with Mobile Base and Helical Cutterhead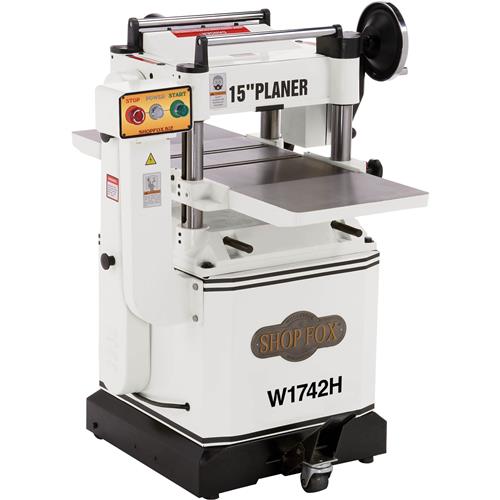 Motor: 3 HP
Max cutting width: 15 in.
Max cutting height: 8 in.
Cutter Head Type: Helical
Cutter Head Diameter: 3 in.
Min Stock Length: 8 in.
Feed Rate(s): 16, 30 FPM
Table size: 20 in. x 15 in.
Shipping weight: 667 lbs.
Hover to View Details
Backordered - More on the way
Overview
W1742H Shop Fox 15" Helical Cutterhead Planer
Create uniform thickness and flatness to improve your lumber.
The W1742H Shop Fox Planer features everything you ever wanted in a 15" planer, including an affordable price.
The 15", 5-row helical cutterhead comes complete with 75 indexable carbide inserts that can each be rotated three times to expose new, sharp cutting edges.
The inserts sit at a slight angle to the for smooth shearing cuts, minimized tearout, a smoother finish, and operating at lower noise levels.
A 240-volt, 3 horsepower motor powers through cuts up to 3/32" deep at full width or 1/8" deep on material up to 6" wide.
The 2-speed gearbox allows you to choose between 16 and 30 FPM for a smooth finish or high-production feed rate.
The W1742H 15" Planers are equipped with a pedestal-mounted thermal-overload safety switch, cast-iron extension wings, and a built-in mobile base.
PLEASE NOTE: For machines manufactured before March 2015, order the D4018 for replacement carbide inserts.
For machines manufactured after April 2015, order the D3379 replacement carbide inserts.
CSA certified
Like all Shop Fox planers, the W1742H comes with a 2-year warranty which covers parts and assures the unit is free from factory defects. (Consumables are not covered by the warranty.)
The W1742H manual was written by our U.S.-based Woodstock Technical Documentation Department and is packed with useful information. The complete and easy-to-read manual makes it easier to assemble and maintain your sander.
The Customer Service and Technical Support Teams are also U.S.-based. Parts for the planer may be available online and shipped from the parts warehouse in Springfield, MO.
SPECIFICATIONS:
Motor: 3 HP, 240V, single-phase, 15A
Maximum cutting width: 15"
Maximum cutting height: 8"
Minimum stock width: 3/16"
Minimum stock length: 8"
Maximum cut depth full width: 3/32"
Maximum cut depth 6" wide: 1/8"
Cutterhead diameter: 3"
Cutterhead type: 5-row helical, 75 inserts
Feed Rate: 16 FPM, 30 FPM
Table size including wings: 15" W x 42" L x 1-3/4" T
Dust port size: 4"
Overall dimensions: 42" W x 32-1/2" D x 46" H
Approximate shipping weight: 667 lbs.
FEATURES:
Two-year warranty!!
Helical cutterhead with 75 indexable carbide inserts
Built-in, easy-to-use mobile base
Chip breaker and pressure bar
Precision-ground cast-iron extension wings
Pedestal-mounted control switch
Inch and metric measurement table elevation scale
Two adjustable bed rollers
Top-mounted board return rollers
Four-column support with positive table locks
Two-speed automatic board feed