Item# W1742H Model# W1742H
Shop Fox W1742H - 15" Planer with Mobile Base and Helical Cutterhead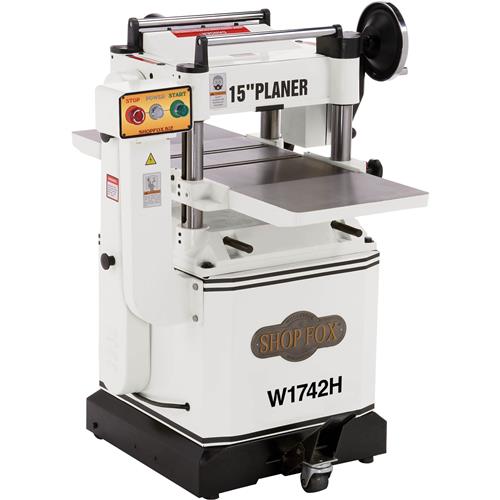 Motor: 3 HP
Max cutting width: 15 in.
Max cutting height: 8 in.
Cutter Head Type: Helical
Cutter Head Diameter: 3 in.
Min Stock Length: 8 in.
Feed Rate(s): 16, 30 FPM
Table size: 20 in. x 15 in.
Shipping weight: 667 lbs.
Hover to View Details
Backordered - More on the way
Overview
W1742H 15" Planer with Mobile Base and Helical Cutterhead
The W1742H 15" Planers are equipped with a pedestal-mounted thermal-overload safety switch, cast-iron extension wings, an enclosed cabinet stand, two-speed gearbox, a helical cutterhead and a built-in mobile base.
You'll find everything you ever wanted in a 15" planer, including an affordable price.
PLEASE NOTE: For machines manufactured before March 2015, order the D4018 for replacement carbide inserts. For machines manufactured after April 2015, order the D3379 replacement carbide inserts. CSA certified
SPECIFICATIONS:
Motor: 3 HP, 240V, single-phase, 15A
Maximum cutting width: 15"
Maximum cutting height: 8"
Minimum stock width: 3/16"
Minimum stock length: 8"
Maximum cutting depth: 1/8"
Cutterhead type: Spiral with German-made indexable carbide inserts
Feed Rate: 16 FPM & 30 FPM
Cutterhead diameter: 3"
Cutterhead speed: 5,000 RPM
Table size including wings: 42" L x 15" W x 1-3/4" T
Number of Indexable Inserts: 74
Approximate shipping weight: 718 lbs.